wiiw Forecast Reports
BOSNIA AND HERZEGOVINA: Changing slowly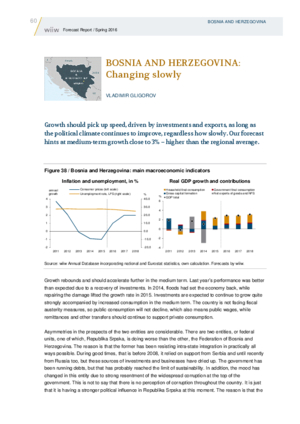 publication_icon
in: Growth Stabilises: Investment a Major Driver, Except in Countries Plagued by Recession
wiiw Forecast Report No. Spring 2016, March 2016 , pp. 60-62
The current report is only available to members and paying customers. Past issues become freely available online when the next report is released.
BOSNIA AND HERZEGOVINA
Growth should pick up speed, driven by investments and exports, as long as the political climate continues to improve, regardless how slowly. Our forecast hints at medium-term growth close to 3% – higher than the regional average.
Reference to wiiw databases: wiiw Annual Database, wiiw Monthly Database
Countries covered: Bosnia and Herzegovina