wiiw Forecast Reports
BELARUS: Recession continues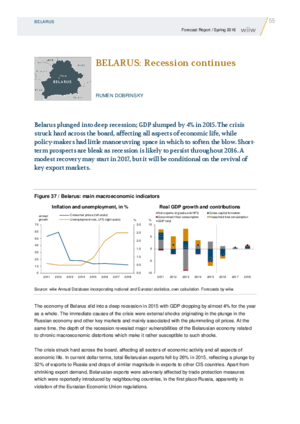 publication_icon
in: Growth Stabilises: Investment a Major Driver, Except in Countries Plagued by Recession
wiiw Forecast Report No. Spring 2016, March 2016 , pp. 55-59
The current report is only available to members and paying customers. Past issues become freely available online when the next report is released.
BELARUS
Belarus plunged into deep recession; GDP slumped by 4% in 2015. The crisis struck hard across the board, affecting all aspects of economic life, while policy-makers had little manoeuvring space in which to soften the blow. Short-term prospects are bleak as recession is likely to persist throughout 2016. A
modest recovery may start in 2017, but it will be conditional on the revival of key export markets.
Reference to wiiw databases: wiiw Annual Database, wiiw Monthly Database
Countries covered: Belarus