wiiw Forecast Reports
BOSNIA AND HERZEGOVINA: Economic and political prospects diverge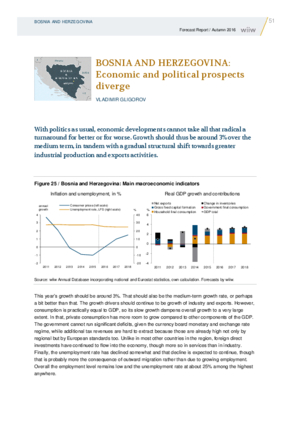 publication_icon
in: Labour Shortages Driving Economic Growth?
wiiw Forecast Report No. Autumn 2016, November 2016 , pp. 51-53
The current report is only available to members and paying customers. Past issues become freely available online when the next report is released.
BOSNIA AND HERZEGOVINA
With politics as usual, economic developments cannot take all that radical a turnaround for better or for worse. Growth should thus be around 3% over the medium term, in tandem with a gradual structural shift towards greater industrial production and exports activities.
Reference to wiiw databases: wiiw Annual Database, wiiw Monthly Database
Countries covered: Bosnia and Herzegovina