wiiw Forecast Reports
ESTONIA: Exports and investment to recover slightly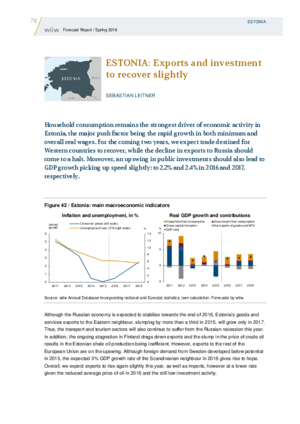 publication_icon
in: Growth Stabilises: Investment a Major Driver, Except in Countries Plagued by Recession
wiiw Forecast Report No. Spring 2016, March 2016 , pp. 76-78
The current report is only available to members and paying customers. Past issues become freely available online when the next report is released.
ESTONIA
Household consumption remains the strongest driver of economic activity in Estonia, the major push factor being the rapid growth in both minimum and overall real wages. For the coming two years, we expect trade destined for Western countries to recover, while the decline in exports to Russia should
come to a halt. Moreover, an upswing in public investments should also lead to GDP growth picking up speed slightly: to 2.2% and 2.4% in 2016 and 2017, respectively.
Reference to wiiw databases: wiiw Annual Database, wiiw Monthly Database
Countries covered: Estonia