wiiw Forecast Reports
HUNGARY: Cold turkey after EU bonanza?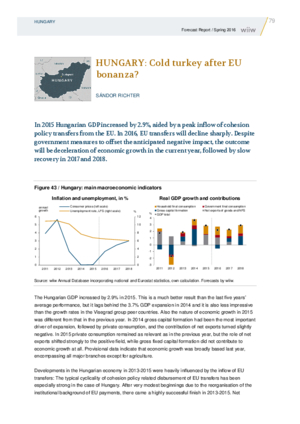 publication_icon
in: Growth Stabilises: Investment a Major Driver, Except in Countries Plagued by Recession
wiiw Forecast Report No. Spring 2016, March 2016 , pp. 79-82
HUNGARY
In 2015 Hungarian GDP increased by 2.9%, aided by a peak inflow of cohesion policy transfers from the EU. In 2016, EU transfers will decline sharply. Despite government measures to offset the anticipated negative impact, the outcome will be deceleration of economic growth in the current year, followed by slow recovery in 2017 and 2018.
Reference to wiiw databases: wiiw Annual Database, wiiw Monthly Database
Countries covered: Hungary