wiiw Handbook of Statistics
This page hosts the wiiw Handbook of Statistics up to 2020.
The wiiw Handbook of Statistics was a compendium of annual and FDI data out of wiiw databases for easy reference with a broad range of reliable and comparable data. The Handbook was published once a year in November. It was available as a hardcopy until 2019, and in PDF and MS Excel form until 2020.
After an embargo period of four years, the Handbook is freely available online.
As of 2021, the Handbook of Statistics has been replaced by the
CESEE Visual Data Explorer
, available
exclusively for members
. The CESEE VDE thematically follows the chapters of the former Handbook, but with up-to-date statistics and interactive visualisation.
For
non-members
, the updated indicators used in the Handbook of Statistics or background data for their calculations can be found, as before, via online access and an easy query tool under
wiiw Annual Database
and
wiiw FDI Database
.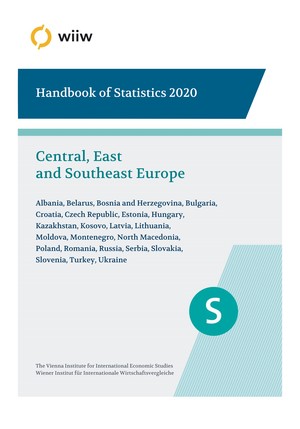 publication_icon
wiiw Handbook of Statistics 2020: Central, East and Southeast Europe
Beata Borosak, Alexandra Bykova, Nadya Heger, Beate Muck, Monika Schwarzhappel, Galina Vasaros and David Zenz
wiiw Handbook of Statistics No. 2020, December 2020
346 pages including 260 Tables, 15 Maps and 8 Graphs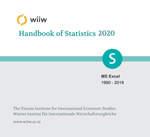 wiiw Handbook of Statistics 2020: Excel Tables
Beata Borosak, Alexandra Bykova, Nadya Heger, Beate Muck, Monika Schwarzhappel, Galina Vasaros and David Zenz
wiiw Handbook of Statistics No. 2020, December 2020
34 Excel files including 11 Chapters and 23 Countries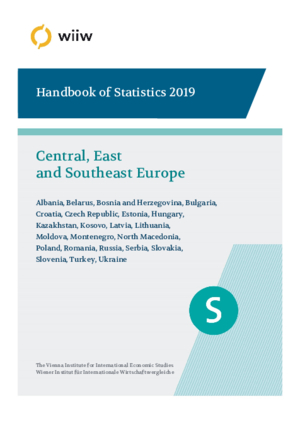 publication_icon
wiiw Handbook of Statistics 2019: Central, East and Southeast Europe
Beata Borosak, Alexandra Bykova, Nadya Heger, Beate Muck, Monika Schwarzhappel, Galina Vasaros and David Zenz
wiiw Handbook of Statistics No. 2019, November 2019
342 pages including 260 Tables, 15 Maps and 8 Graphs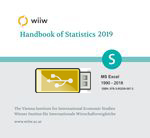 wiiw Handbook of Statistics 2019: Excel Tables
Beata Borosak, Alexandra Bykova, Nadya Heger, Beate Muck, Monika Schwarzhappel, Galina Vasaros and David Zenz
wiiw Handbook of Statistics No. 2019, November 2019
34 Excel files including 11 Chapters and 23 Countries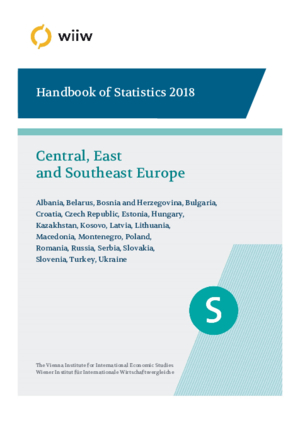 publication_icon
wiiw Handbook of Statistics 2018: Central, East and Southeast Europe
Alexandra Bykova, Nadya Heger, Beate Muck, Renate Prasch, Monika Schwarzhappel, Galina Vasaros and David Zenz
wiiw Handbook of Statistics No. 2018, November 2018
338 pages including 250 Tables, 15 Maps and 8 Graphs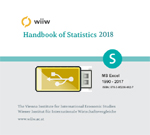 wiiw Handbook of Statistics 2018: Excel Tables
Alexandra Bykova, Nadya Heger, Beate Muck, Renate Prasch, Monika Schwarzhappel, Galina Vasaros and David Zenz
wiiw Handbook of Statistics No. 2018, November 2018
33 Excel files including 11 Chapters and 22 Countries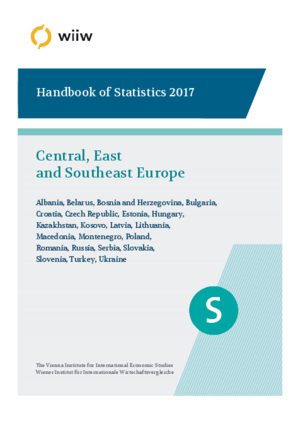 publication_icon
wiiw Handbook of Statistics 2017: Central, East and Southeast Europe
Alexandra Bykova, Nadya Heger, Beate Muck, Renate Prasch, Monika Schwarzhappel, Galina Vasaros and David Zenz
wiiw Handbook of Statistics No. 2017, November 2017
334 pages including 248 Tables and 15 Maps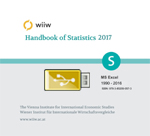 wiiw Handbook of Statistics 2017: Excel Tables
Alexandra Bykova, Nadya Heger, Beate Muck, Renate Prasch, Monika Schwarzhappel, Galina Vasaros and David Zenz
wiiw Handbook of Statistics No. 2017, November 2017
32 Excel files including 11 Chapters and 22 Countries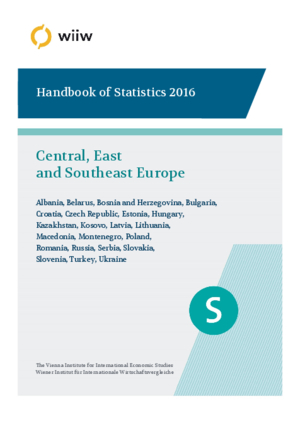 publication_icon
wiiw Handbook of Statistics 2016: Central, East and Southeast Europe
Alexandra Bykova, Nadya Heger, Simona Jokubauskaite, Beate Muck, Renate Prasch, Monika Schwarzhappel and Galina Vasaros
wiiw Handbook of Statistics No. 2016, November 2016
334 pages including 247 Tables and 15 Maps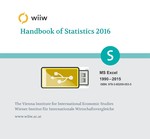 wiiw Handbook of Statistics 2016: Excel Tables
Alexandra Bykova, Nadya Heger, Simona Jokubauskaite, Beate Muck, Renate Prasch, Monika Schwarzhappel and Galina Vasaros
wiiw Handbook of Statistics No. 2016, November 2016
32 Excel files including 11 Chapters and 22 Countries