wiiw Forecast Reports
The wiiw Forecast Report - our flagship report - is a comprehensive volume of cross-country analysis, individual country reports and forecasts of major economic indicators for 23 countries. The report includes overview tables and graphs, individual country tables and an annex with indicators of competitiveness. It is published twice a year (in spring and autumn) and is available in hardcopy or for download (PDF). The wiiw Forecast Reports are a continuation of the wiiw Current Analyses and Forecasts series.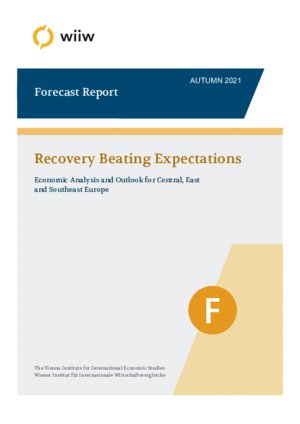 publication_icon
Recovery Beating Expectations
Vasily Astrov, Alexandra Bykova, Rumen Dobrinsky, Selena Duraković, Richard Grieveson, Doris Hanzl-Weiss, Gabor Hunya, Branimir Jovanović, Niko Korpar, Sebastian Leitner, Isilda Mara, Olga Pindyuk, Leon Podkaminer, Sandor Richter, Bernd Christoph Ströhm and Maryna Tverdostup
wiiw Forecast Report No. Autumn 2021, October 2021
139 pages including 30 Tables, and 46 Figures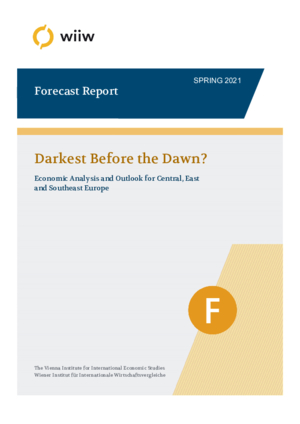 publication_icon
Darkest before the dawn?
Vasily Astrov, Alexandra Bykova, Rumen Dobrinsky, Selena Duraković, Richard Grieveson, Doris Hanzl-Weiss, Gabor Hunya, Branimir Jovanović, Niko Korpar, Sebastian Leitner, Isilda Mara, Olga Pindyuk, Leon Podkaminer, Sandor Richter, Bernd Christoph Ströhm and Maryna Tverdostup
wiiw Forecast Report No. Spring 2021, April 2021
157 pages including 29 Tables, 62 Figures and 2 Boxes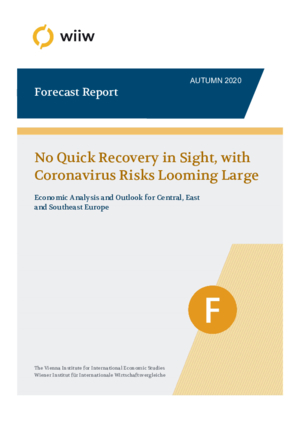 publication_icon
No Quick Recovery in Sight, with Coronavirus Risks Looming Large
Vasily Astrov, Alexandra Bykova, Rumen Dobrinsky, Richard Grieveson, Doris Hanzl-Weiss, Philipp Heimberger, Gabor Hunya, Branimir Jovanović, Niko Korpar, Sebastian Leitner, Isilda Mara, Olga Pindyuk, Leon Podkaminer, Sandor Richter and Bernd Christoph Ströhm
wiiw Forecast Report No. Autumn 2020, November 2020
151 pages including 37 Tables, 46 Figures and 1 Box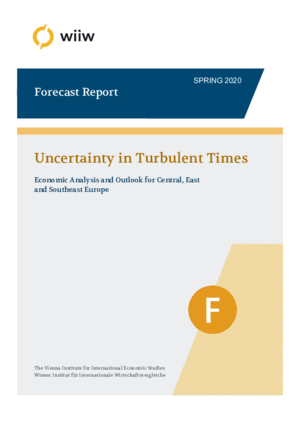 publication_icon
Uncertainty in Turbulent Times
Vasily Astrov, Alexandra Bykova, Rumen Dobrinsky, Richard Grieveson, Julia Grübler, Doris Hanzl-Weiss, Gabor Hunya, Sebastian Leitner, Isilda Mara, Olga Pindyuk, Leon Podkaminer, Sandor Richter, Bernd Christoph Ströhm and Hermine Vidovic
wiiw Forecast Report No. Spring 2020, March 2020
181 pages including 36 Tables, 55 Figures and 1 Box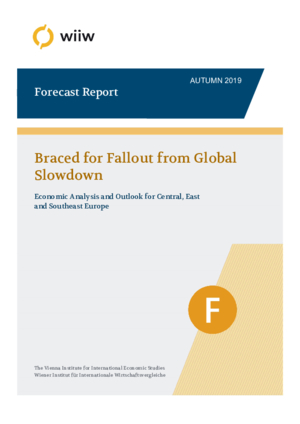 publication_icon
Braced for Fallout from Global Slowdown
Vasily Astrov, Alexandra Bykova, Rumen Dobrinsky, Vladimir Gligorov, Richard Grieveson, Doris Hanzl-Weiss, Gabor Hunya, Sebastian Leitner, Isilda Mara, Olga Pindyuk, Leon Podkaminer, Sandor Richter and Hermine Vidovic
wiiw Forecast Report No. Autumn 2019, November 2019
146 pages including 39 Tables and 50 Figures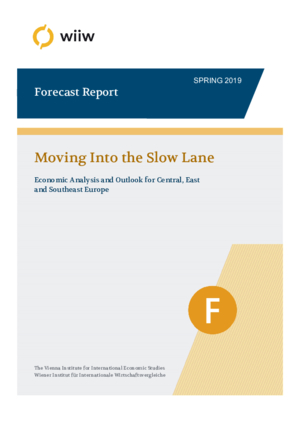 publication_icon
Moving Into the Slow Lane
Vasily Astrov, Alexandra Bykova, Rumen Dobrinsky, Richard Grieveson, Doris Hanzl-Weiss, Peter Havlik, Mario Holzner, Gabor Hunya, Sebastian Leitner, Isilda Mara, Olga Pindyuk, Leon Podkaminer, Sandor Richter, Hermine Vidovic and Goran Vukšić
wiiw Forecast Report No. Spring 2019, March 2019
181 pages including 39 Tables and 68 Figures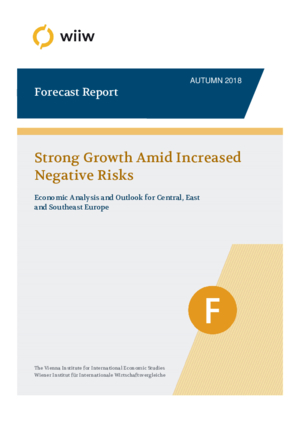 publication_icon
Strong Growth Amid Increased Negative Risks
Amat Adarov, Vasily Astrov, Alexandra Bykova, Rumen Dobrinsky, Richard Grieveson, Julia Grübler, Doris Hanzl-Weiss, Peter Havlik, Philipp Heimberger, Mario Holzner, Gabor Hunya, Michael Landesmann, Sebastian Leitner, Isilda Mara, Olga Pindyuk, Leon Podkaminer, Sandor Richter and Hermine Vidovic
wiiw Forecast Report No. Autumn 2018, November 2018
181 pages including 37 Tables and 59 Figures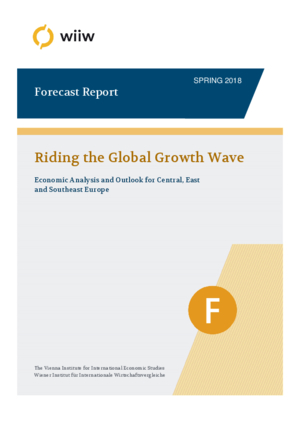 publication_icon
Riding the Global Growth Wave
Vasily Astrov, Rumen Dobrinsky, Vladimir Gligorov, Richard Grieveson, Doris Hanzl-Weiss, Peter Havlik, Gabor Hunya, Sebastian Leitner, Isilda Mara, Olga Pindyuk, Leon Podkaminer, Sandor Richter, Robert Stehrer, Roman Stöllinger and Hermine Vidovic
wiiw Forecast Report No. Spring 2018, March 2018
193 pages including 36 Tables and 64 Figures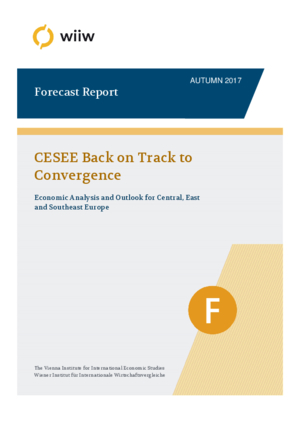 publication_icon
CESEE Back on Track to Convergence
Vasily Astrov, Rumen Dobrinsky, Vladimir Gligorov, Richard Grieveson, Doris Hanzl-Weiss, Peter Havlik, Gabor Hunya, Sebastian Leitner, Isilda Mara, Olga Pindyuk, Leon Podkaminer, Sandor Richter and Hermine Vidovic
wiiw Forecast Report No. Autumn 2017, November 2017
149 pages including 31 Tables and 53 Figures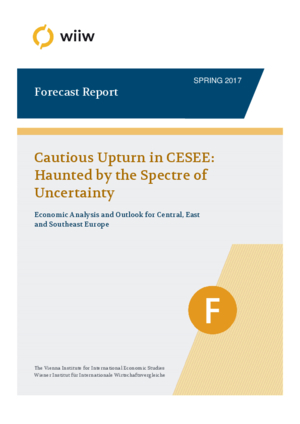 publication_icon
Cautious Upturn in CESEE: Haunted by the Spectre of Uncertainty
Amat Adarov, Vasily Astrov, Rumen Dobrinsky, Vladimir Gligorov, Richard Grieveson, Doris Hanzl-Weiss, Peter Havlik, Mario Holzner, Gabor Hunya, Sebastian Leitner, Isilda Mara, Olga Pindyuk, Leon Podkaminer, Sandor Richter and Hermine Vidovic
wiiw Forecast Report No. Spring 2017, March 2017
151 pages including 30 Tables and 54 Figures