wiiw Forecast Reports
The wiiw Forecast Report - our flagship report - is a comprehensive volume of cross-country analysis, individual country reports and forecasts of major economic indicators for 23 countries. The report includes overview tables and graphs, individual country tables and an annex with indicators of competitiveness. It is published twice a year (in spring and autumn) and is available in hardcopy or for download (PDF). The wiiw Forecast Reports are a continuation of the wiiw Current Analyses and Forecasts series.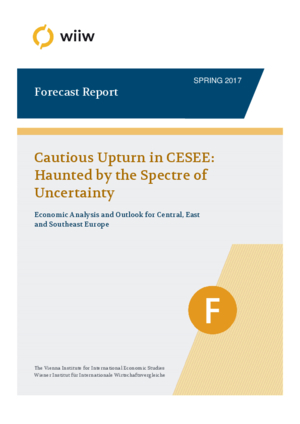 publication_icon
Cautious Upturn in CESEE: Haunted by the Spectre of Uncertainty
Amat Adarov, Vasily Astrov, Rumen Dobrinsky, Vladimir Gligorov, Richard Grieveson, Doris Hanzl-Weiss, Peter Havlik, Mario Holzner, Gabor Hunya, Sebastian Leitner, Isilda Mara, Olga Pindyuk, Leon Podkaminer, Sandor Richter and Hermine Vidovic
wiiw Forecast Report No. Spring 2017, March 2017
151 pages including 30 Tables and 54 Figures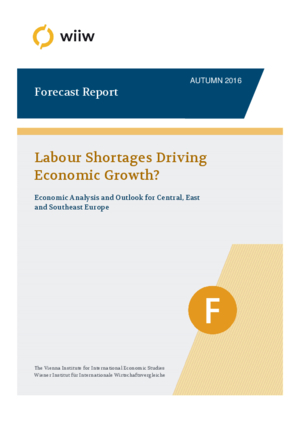 publication_icon
Labour Shortages Driving Economic Growth?
Vasily Astrov, Serkan Çiçek, Rumen Dobrinsky, Vladimir Gligorov, Doris Hanzl-Weiss, Peter Havlik, Mario Holzner, Gabor Hunya, Michael Landesmann, Sebastian Leitner, Isilda Mara, Olga Pindyuk, Leon Podkaminer, Oliver Reiter, Sandor Richter, Robert Stehrer and Hermine Vidovic
wiiw Forecast Report No. Autumn 2016, November 2016
157 pages including 32 Tables, 46 Figures and 3 Boxes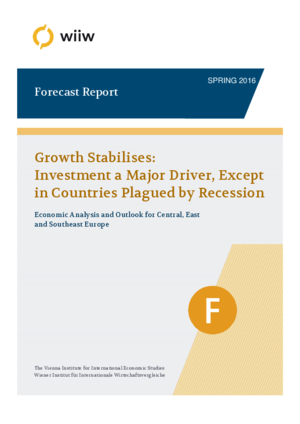 publication_icon
Growth Stabilises: Investment a Major Driver, Except in Countries Plagued by Recession
Amat Adarov, Vasily Astrov, Serkan Çiçek, Rumen Dobrinsky, Vladimir Gligorov, Doris Hanzl-Weiss, Peter Havlik, Mario Holzner, Gabor Hunya, Simona Jokubauskaite, Sebastian Leitner, Isilda Mara, Olga Pindyuk, Leon Podkaminer, Sandor Richter and Hermine Vidovic
wiiw Forecast Report No. Spring 2016, March 2016
155 pages including 31 Tables and 58 Figures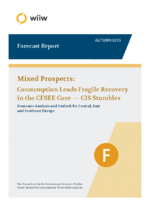 publication_icon
Mixed Prospects: Consumption Leads Fragile Recovery in the CESEE Core – CIS Stumbles
Amat Adarov, Vasily Astrov, Serkan Çiçek, Rumen Dobrinsky, Vladimir Gligorov, Doris Hanzl-Weiss, Peter Havlik, Mario Holzner, Gabor Hunya, Sebastian Leitner, Isilda Mara, Olga Pindyuk, Leon Podkaminer, Sandor Richter, Robert Stehrer and Hermine Vidovic
wiiw Forecast Report No. Autumn 2015, November 2015
155 pages including 32 Tables and 63 Figures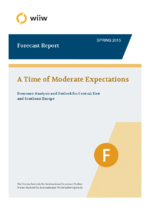 publication_icon
A Time of Moderate Expectations
Amat Adarov, Vasily Astrov, Serkan Çiçek, Rumen Dobrinsky, Vladimir Gligorov, Doris Hanzl-Weiss, Peter Havlik, Mario Holzner, Gabor Hunya, Sebastian Leitner, Isilda Mara, Olga Pindyuk, Leon Podkaminer, Sandor Richter and Hermine Vidovic
wiiw Forecast Report No. Spring 2015, March 2015
143 pages including 34 Tables and 29 Figures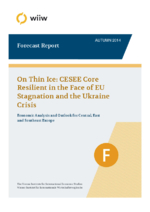 publication_icon
On Thin Ice: CESEE Core Resilient in the Face of EU Stagnation and the Ukraine Crisis
Vasily Astrov, Serkan Çiçek, Rumen Dobrinsky, Vladimir Gligorov, Doris Hanzl-Weiss, Peter Havlik, Mario Holzner, Gabor Hunya, Sebastian Leitner, Olga Pindyuk, Leon Podkaminer, Sandor Richter and Hermine Vidovic
wiiw Forecast Report No. Autumn 2014, November 2014
141 pages including 31 Tables and 30 Figures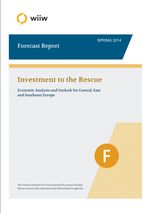 publication_icon
Investment to the Rescue
Vasily Astrov, Rumen Dobrinsky, Vladimir Gligorov, Doris Hanzl-Weiss, Peter Havlik, Mario Holzner, Gabor Hunya, Michael Landesmann, Sebastian Leitner, Olga Pindyuk, Leon Podkaminer, Sandor Richter and Hermine Vidovic
wiiw Forecast Report No. Spring 2014, March 2014
132 pages including 27 Tables and 25 Figures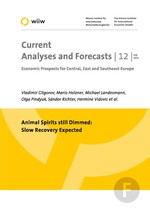 publication_icon
Animal Spirits still Dimmed: Slow Recovery Expected
Vasily Astrov, Rumen Dobrinsky, Vladimir Gligorov, Doris Hanzl-Weiss, Peter Havlik, Mario Holzner, Gabor Hunya, Michael Landesmann, Sebastian Leitner, Olga Pindyuk, Leon Podkaminer, Sandor Richter and Hermine Vidovic
wiiw Current Analyses and Forecasts No. 12, July 2013
162 pages including 36 Tables and 35 Figures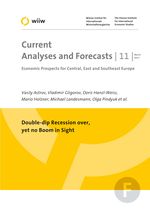 publication_icon
Double-dip Recession over, yet no Boom in Sight
Vasily Astrov, Rumen Dobrinsky, Vladimir Gligorov, Doris Hanzl-Weiss, Peter Havlik, Mario Holzner, Gabor Hunya, Michael Landesmann, Sebastian Leitner, Olga Pindyuk, Leon Podkaminer, Sandor Richter and Hermine Vidovic
wiiw Current Analyses and Forecasts No. 11, March 2013
157 pages including 31 Tables and 35 Figures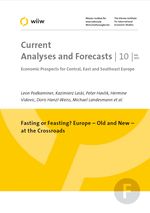 publication_icon
Fasting or Feasting? Europe - Old and New - at the Crossroads
Vasily Astrov, Vladimir Gligorov, Doris Hanzl-Weiss, Peter Havlik, Mario Holzner, Gabor Hunya, Michael Landesmann, Sebastian Leitner, Zdenek Lukas, Anton Mihailov, Olga Pindyuk, Leon Podkaminer, Josef Pöschl, Sandor Richter and Hermine Vidovic
wiiw Current Analyses and Forecasts No. 10, July 2012
150 pages including 31 Tables and 17 Figures