wiiw Forecast Reports
The wiiw Forecast Report - our flagship report - is a comprehensive volume of cross-country analysis, individual country reports and forecasts of major economic indicators for 21 countries. The report includes overview tables and graphs, individual country tables and an annex with indicators of competitiveness. It is published twice a year (in spring and autumn) and is available in hardcopy or for download (PDF). The wiiw Forecast Reports are a continuation of the wiiw Current Analyses and Forecasts series.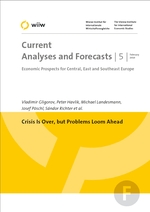 publication_icon
Crisis Is Over, but Problems Loom Ahead
Vasily Astrov, Vladimir Gligorov, Peter Havlik, Mario Holzner, Gabor Hunya, Michael Landesmann, Sebastian Leitner, Zdenek Lukas, Anton Mihailov, Olga Pindyuk, Leon Podkaminer, Josef Pöschl, Sandor Richter, Waltraut Urban and Hermine Vidovic
wiiw Current Analyses and Forecasts No. 5, February 2010
170 pages including 45 Tables and 27 Figures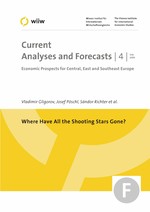 publication_icon
Where Have All the Shooting Stars Gone?
Vasily Astrov, Vladimir Gligorov, Peter Havlik, Mario Holzner, Gabor Hunya, Michael Landesmann, Sebastian Leitner, Zdenek Lukas, Anton Mihailov, Olga Pindyuk, Leon Podkaminer, Josef Pöschl, Sandor Richter, Waltraut Urban and Hermine Vidovic
wiiw Current Analyses and Forecasts No. 4, July 2009
171 pages including 47 Tables and 50 Figures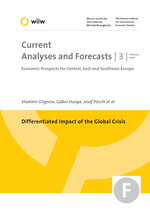 publication_icon
Differentiated Impact of the Global Crisis
Vasily Astrov, Vladimir Gligorov, Peter Havlik, Mario Holzner, Gabor Hunya, Anna Iara, Sebastian Leitner, Zdenek Lukas, Anton Mihailov, Olga Pindyuk, Leon Podkaminer, Josef Pöschl, Sandor Richter, Robert Stehrer, Waltraut Urban and Hermine Vidovic
wiiw Current Analyses and Forecasts No. 3, February 2009
137 pages including 40 Tables and 16 Figures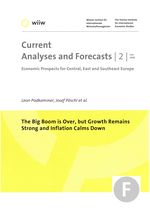 publication_icon
The Big Boom Is Over, but Growth Remains Strong and Inflation Calms Down
Vasily Astrov, Vladimir Gligorov, Peter Havlik, Mario Holzner, Gabor Hunya, Sebastian Leitner, Zdenek Lukas, Anton Mihailov, Olga Pindyuk, Leon Podkaminer, Josef Pöschl, Waltraut Urban and Hermine Vidovic
wiiw Current Analyses and Forecasts No. 2, July 2008
160 pages including 50 Tables and 16 Figures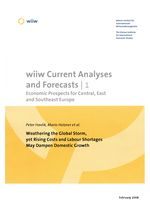 publication_icon
Weathering the Global Storm, yet Rising Costs and Labour Shortages May Dampen Domestic Growth
Vasily Astrov, Vladimir Gligorov, Peter Havlik, Mario Holzner, Gabor Hunya, Sebastian Leitner, Zdenek Lukas, Anton Mihailov, Olga Pindyuk, Leon Podkaminer, Josef Pöschl, Sandor Richter, Waltraut Urban and Hermine Vidovic
wiiw Current Analyses and Forecasts No. 1, February 2008
151 pages including 51 Tables and 20 Figures