New Divide(s) in Europe?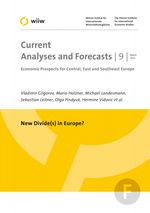 publication_icon
Vasily Astrov, Vladimir Gligorov, Doris Hanzl-Weiss, Peter Havlik, Mario Holzner, Gabor Hunya, Michael Landesmann, Sebastian Leitner, Zdenek Lukas, Anton Mihailov, Olga Pindyuk, Leon Podkaminer, Josef Pöschl, Sandor Richter and Hermine Vidovic
wiiw Current Analyses and Forecasts No. 9, March 2012
161 pages including 34 Tables and 23 Figures
| No. | Title | Author | |
| --- | --- | --- | --- |
| 1 | Albania: Arcane setback in growth | Mario Holzner | Free Download |
| 2 | Bosnia and Herzegovina: Political breakthrough in times of economic stagnation | Josef Pöschl | Free Download |
| 3 | Bulgaria: Heading for a downturn? | Anton Mihailov | Free Download |
| 4 | Croatia: Recession continues | Hermine Vidovic | Free Download |
| 5 | Estonia: Weakness of external demand will drag down strong recovery | Sebastian Leitner | Free Download |
| 6 | Hungary: Economic policy turn ahead? | Sandor Richter | Free Download |
| 7 | Kazakhstan: Strong growth continues, but problems in the banking sector remain | Olga Pindyuk | Free Download |
| 8 | Latvia: Aiming for euozone accession | Sebastian Leitner | Free Download |
| 9 | Lithuania: Exports trigger cyclical downturn | Sebastian Leitner | Free Download |
| 10 | Macedonia: Downside risks | Vladimir Gligorov | Free Download |
| 11 | Montenegro: Instability looming | Vladimir Gligorov | Free Download |
| 12 | Poland: Economy decoupled from the eurozone crisis | Leon Podkaminer | Free Download |
| 13 | Romania: Slowdown after boom | Gabor Hunya | Free Download |
| 14 | Russian Federation: Instability ahead? | Peter Havlik | Free Download |
| 15 | Serbia: Stagnation at Best | Vladimir Gligorov | Free Download |
| 16 | Slovakia: Successful year achieved, challenges ahead | Doris Hanzl-Weiss | Free Download |
| 17 | Slovenia: Slipping into recession again | Hermine Vidovic | Free Download |
| 18 | The Czech Republic: Self-inflicted pain | Leon Podkaminer | Free Download |
| 19 | Turkey: Slowdown? Or even recession? | Josef Pöschl | Free Download |
| 20 | Ukraine: Association agreement with the EU delayed | Vasily Astrov | Free Download |
The present economic crisis bears all the familiar hallmarks of the financial, debt-related and structural aspects of current account crises. All these aspects have lasting level effects and recovery can be very protracted. Export-led growth was an important feature of the recovery period 2010-2011, yet significant inter-country differences persisted. A few countries with severe pre-crisis imbalances (Romania, Bulgaria and the Baltic states) enjoyed reasonable export growth over that period, while other structurally weak economies on the European periphery (Western Balkan countries and the Southern EU) fared badly in that respect. The latter group of countries will continue to lag behind also in the forecast period 2012-2014, while some of the Central European economies (Czech Republic, Poland and Slovakia) will manage to stay out of the vicious circle of low growth, high interest rates and unsustainable debt. These three countries, as well as the Baltic states, are expected to grow by about 3% in the years to come (still significantly below the trend growth rates before the crisis). The remaining EU new member states as well as the Western Balkan countries will achieve only about half of this growth. Turkey, Russia, Ukraine and Kazakhstan will grow by rates of up to 5%.

The need to correct imbalances
It is quite apparent that the crisis brought about a need to correct strong external imbalances and the excessive private sector debt build-up prior to the crisis. The extent of adjustment is directly related to the extent of the previous current account disequilibria and private sector debt build-up. These adjustments (and their severity) entail clear medium-term costs in terms of GDP growth and employment. Furthermore, patterns of adjustment across CESEE economies vary greatly, with some countries (such as Croatia) relying almost exclusively (even in the medium term) on import restraint, while others (e.g. the Baltic states) were more successful in terms of export growth.

End of convergence?
The success of the EU economic policy stance, which the non-member countries in Southeast Europe also follow to a large extent, depends on the revival of external demand. Household consumption will grow only slowly, if at all, and public consumption is set to decline further. Private investment will have a hard time picking up, given high levels of corporate debt, weak banks and consequently very low credit growth with external demand subdued. If the expectation is that structural reforms will spur investments and exports, it may take some time before that actually happens. In the meantime, this could well lead to an ever-widening divide between the various European regions. This stands in sharp contrast to the previous perspective widely subscribed to in the mid-1990s. From that time on, the conventional wisdom was that Europe displayed clear signs of 'convergence' at the inter-country level, with low-income economies growing at a faster rate than rich ones. Up to the recent crisis broadly convincing evidence was found of narrowing inter-country income gaps in a wide range of countries based on the availability of cheap finance which does no longer exist.

The vicious circle of austerity
Important groups of economies, such as the Southern EU Member States and most of the countries of Southeast Europe, have come up against a vicious circle: high initial debt levels and dim growth prospects translate into greater doubts about debt sustainability. The resulting higher interest rates impose a constraint on investment and encourage corporate and household deleveraging which is further compounded by the fragile state of the banking system. This dampens consumption expenditures, and leads to cutbacks in employment (and wages), which, in turn, lower household incomes and domestic sales prospects. The induced lower GDP growth outlook, in turn, raises concerns over debt sustainability and fosters the need to keep interest rates high. Similarly, the fiscal stance adopted by most EU countries has been rather restrictive. This will be followed by even more fiscal austerity, as it proves increasingly costly to finance fiscal deficits and refinance public debts.

Special topics
Two special chapters of this forecast report cover recent developments in the labour markets of the CESEEs and the situation of the banking sector respectively. Towards the end of 2011 the employment situation has deteriorated again and unemployment rates especially for young people have markedly increased. The outlook for the coming years looks very grim. Workers migration from the NMS towards Western Europe kept increasing during the crisis. We also cover the process of retrenchment in credit activity by foreign banks in CESEE and analyse general deleveraging and spillover effects from the crises in Greece and Hungary via Western European banks.
Reference to wiiw databases: wiiw Annual Database, wiiw Monthly Database
Keywords: Central and East European new EU member states, Southeast Europe, GIIPS, financial crisis, future EU member states, Balkans, former Soviet Union, Turkey, economic forecasts, employment, foreign trade, competitiveness, debt, deleveraging, exchange rates, flow of funds, inflation, monetary policy
JEL classification: C33, C50, E20, E29, F34, G01, G18, O52, O57, P24, P27, P33, P52
Countries covered: Albania, Bosnia and Herzegovina, Bulgaria, Central, East and Southeast Europe, CIS, Croatia, Czechia, Estonia, European Union, Hungary, Kazakhstan, Latvia, Lithuania, North Macedonia, Montenegro, New EU Member States, Poland, Romania, Russia, SEE, Serbia, Slovakia, Slovenia, Turkey, Ukraine, Visegrad countries
Research Areas: Macroeconomic Analysis and Policy, Labour, Migration and Income Distribution, International Trade, Competitiveness and FDI
ISBN-13: 978-3-85209-028-3