wiiw Forecast Reports
HUNGARY: The growth engine kicked in – what next?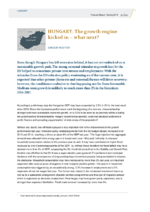 publication_icon
in: A Time of Moderate Expectations
wiiw Forecast Report No. Spring 2015, March 2015 , pp. 63-65
HUNGARY
Even though Hungary has left recession behind, it has not yet embarked on a sustainable growth path. The strong external stimulus to growth lent by the EU helped to resuscitate private investment and employment. With the stimulus from the EU cohesion policy weakening as of the current year, it is expected that other private (domestic and external) factors will drive recovery; however, the conditions conducive to that happening are far from favourable. Medium-term growth is unlikely to reach more than 2% in the biennium 2016-2017.
Reference to wiiw databases: wiiw Annual Database, wiiw Monthly Database
Countries covered: Hungary