wiiw Current Analyses and Forecasts
Latvia: Is this the path towards cohesion?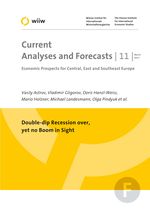 publication_icon
in: Double-dip Recession over, yet no Boom in Sight
wiiw Current Analyses and Forecasts No. 11, March 2013 , pp. 77-78
The revival of previously depressed domestic demand backs high GDP growth in Latvia. Moreover, strong growth in exports to Russia and the Baltic neighbours counterbalances the flagging demand of the euro area. Falling consumer inflation rates and a reduction of the budget deficit to 1.4% of GDP in 2012 allows Latvia to head towards euro area accession in 2014.
Reference to wiiw databases: wiiw Annual Database, wiiw Monthly Database
Countries covered: Latvia