JVI Course on Public-Private Partnerships, 4 October - 15 October 2021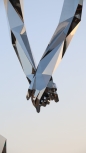 16 August 2021
Are you interested to learn how public-private partnerships work in theory and practice?
image credit: unsplash.com/ Manny Becerra
From 4 October – 15 October 2021 we invite public decision makers and specialists from 31 East European transition countries to apply for this online and free of charge training programme offered by the Austrian Authorities - JVI and wiiw.
In this training program, you will examine contractual and financial relationships between public and private partners, macroeconomic perspectives and draw on the experiences from countries in Europe and transition economies. Particular attention is given to public sectors such as infrastructure, energy and health.
Click here to learn more and apply by 12 September 2021.