Transition Countries in 2001: Robust Domestic Demand, Concerns About External Fragility Reappear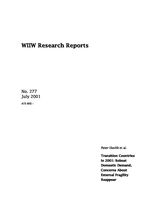 publication_icon
Peter Havlik
wiiw Research Report No. 277, July 2001
96 pages including 27 Tables and 12 Figures
The year 2000 was exceptionally good for the transition countries. The region as a whole expanded faster than the world economy average. However, the favourable external climate has started to deteriorate rapidly and especially the current pronounced weakening of the EU economy is worrying. The transition economies, especially those which aspire for EU membership, may be seriously affected. And it would perhaps not be their economic growth that would suffer the most, but the climate for enlargement in the EU, and this just at the time when accession negotiations are entering their final and most difficult phase.

As of mid-2001, there are hardly any signs that the current global economic slowdown will immediately affect the transition countries' short-term growth prospects. Domestic demand is robust, though the growth of industrial production somewhat decelerated during the first months of the year. If there is a noticeable growth slowdown, as in Poland, Russia and Macedonia, then domestic factors are largely to blame. A few countries which have attracted large amounts of outward-oriented FDI and improved their competitive position have so far not been impacted adversely by the recent EU growth weakening. Moreover, many transition countries also report expanding domestic demand, which is thus taking over the growth stimulus from declining net exports. In several countries external balances are deteriorating. Russia continues to enjoy high revenues from energy exports, the GDP growth is clearly slowing down.

The economies of the transition countries in Central and Eastern Europe will grow by about 3.5% on average in both 2001 and 2002 - only marginally less than during 2000. A more pronounced deceleration of GDP growth is forecast only for Poland and Russia, in both cases largely for domestic economic policy reasons. Inflation will slowly recede to single-digit annual rates (Romania, Yugoslavia, Russia and Ukraine are exceptions), but will remain higher than in the EU (except possibly in the Czech Republic) - just as will unemployment. Current account deficits, though generally quite high and growing, are of no immediate concern yet, but should be watched closely.
Keywords: Transition countries, CEECs, CIS, economy, economic integration, macroeconomic, outlook, forecast, data, business climate, GDP, growth, trade, export, industries, budget, 2000, 2001, 2002
JEL classification: E17, E65, F14, O11, O52, P27
Countries covered: Bosnia and Herzegovina, Bulgaria, Croatia, Czechia, Hungary, North Macedonia, Poland, Romania, Russia, Serbia and Montenegro, Slovakia, Slovenia, Ukraine, SEE, Visegrad countries
Research Areas: Macroeconomic Analysis and Policy, International Trade, Competitiveness and FDI