wiiw Forecast Reports
LATVIA: Public investment and minimum wages to lift growth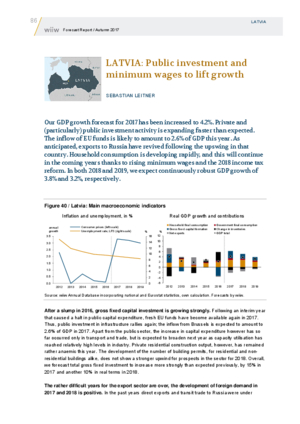 publication_icon
in: CESEE Back on Track to Convergence
wiiw Forecast Report No. Autumn 2017, November 2017 , pp. 86-88
Our GDP growth forecast for 2017 has been increased to 4.2%. Private and
(particularly) public investment activity is expanding faster than expected.
The inflow of EU funds is likely to amount to 2.6% of GDP this year. As
anticipated, exports to Russia have revived following the upswing in that
country. Household consumption is developing rapidly, and this will continue
in the coming years thanks to rising minimum wages and the 2018 income tax
reform. In both 2018 and 2019, we expect continuously robust GDP growth of
3.8% and 3.2%, respectively.
Reference to wiiw databases: wiiw Annual Database, wiiw Monthly Database
Countries covered: Latvia