wiiw Forecast Reports
LITHUANIA: Upswing in the investment cycle and foreign demand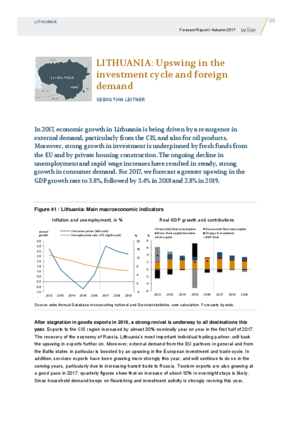 publication_icon
in: CESEE Back on Track to Convergence
wiiw Forecast Report No. Autumn 2017, November 2017 , pp. 89-92
In 2017, economic growth in Lithuania is being driven by a resurgence in
external demand, particularly from the CIS, and also for oil products.
Moreover, strong growth in investment is underpinned by fresh funds from
the EU and by private housing construction. The ongoing decline in
unemployment and rapid wage increases have resulted in steady, strong
growth in consumer demand. For 2017, we forecast a greater upswing in the
GDP growth rate to 3.8%, followed by 3.4% in 2018 and 2.8% in 2019.
Reference to wiiw databases: wiiw Annual Database, wiiw Monthly Database
Countries covered: Lithuania