wiiw Forecast Reports
RUSSIAN FEDERATION: Recession already over?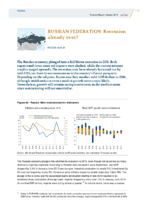 publication_icon
Peter Havlik
in: Mixed Prospects: Consumption Leads Fragile Recovery in the CESEE Core – CIS Stumbles
wiiw Forecast Report No. Autumn 2015, November 2015 , pp. 113-117
RUSSIA
The Russian economy plunged into a full-blown recession in 2015. Both exports and (even more so) imports were slashed, while the current account surplus surged upwards. The recession may have already bottomed out by mid-2015, yet there is no consensus as to the country's future prospects. Depending on the oil price, Russia may face another mild GDP decline in 2016, although stabilisation or even a modest growth seems more likely. Nevertheless, growth will remain unimpressive even in the medium term since restructuring will not materialise.
Reference to wiiw databases: wiiw Annual Database, wiiw Monthly Database
Countries covered: Russia