wiiw Current Analyses and Forecasts
Bulgaria: In the trap of macroeconomic mismanagement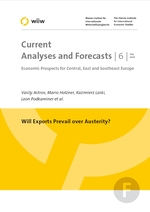 publication_icon
Anton Mihailov
in: Will Exports Prevail over Austerity?
wiiw Current Analyses and Forecasts No. 6, July 2010 , pp. 63-66
The Bulgarian government has grossly mishandled the crisis thus prolonging and deepening the economic slump in the country.
The most damaging procyclical fiscal step has probably been the curbing of public investment.
The economy fell into a largely self-inflicted vicious circle of economic downswing and swelling fiscal imbalance.
The short-term outlook for the Bulgarian economy remains skewed towards the downside and GDP will stagnate at best in 2010.
Reference to wiiw databases: wiiw Annual Database, wiiw Monthly Database
Countries covered: Bulgaria, SEE