China an der Schwelle zu 2-stelligem Wachstum (press conference presentation in German)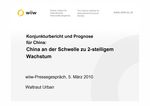 For the English presentation click HERE.
Serie:
Konjunkturbericht und Prognose für Mittel-, Ost- und Südosteuropa
China hat im Jahr 2009 mit einem BIP Wachstum von 8.7% die meisten Erwartungen übertroffen. Das hohe Wirtschaftswachstum trotz Einbruch bei den Exporten war eine Folge der massiven Stimulierungsmaßnahmen der chinesischen Regierung, die vor allem die Investitionen aber auch den privaten Konsum stützten. In Erwartung, dass die Maßnahmen zur Konjunkturstützung auch heuer beibehalten werden und sich die Exportnachfrage erholen wird, dürfte die chinesische Wirtschaft 2010 mit einer Rate von rund 9.5% expandieren. Für 2011 erwartet das wiiw ein BIP Wachstum von 9.8% und schon 2012 könnte die Wachstumsrate wieder im 2-stelligen Bereich liegen, wie vor der Krise. Dies sind die wesentlichen Aussagen des Berichts über China, den das Wiener Institut für Internationale Wirtschaftsvergleiche (wiiw) in seiner jüngsten Konjunkturprognose mit dem Titel ,China: On the cusp of double-digit growth' veröffentlicht hat.
Reference to wiiw databases: wiiw Annual Database
Countries covered: China
Research Areas: Macroeconomic Analysis and Policy