China: Economy fast on track, but risks lurking ahead (press conference presentation)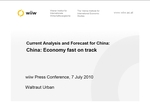 For the German presentation click HERE.
The Vienna Institute for International Economic Studies (wiiw) has just published its latest
Analyses and Forecasts
.
The report, titled 'Will Exports Prevail over Austerity?', includes an analysis of the latest economic developments and a forecast for China.
In the first quarter of 2010, the Chinese GDP expanded at a rate of 11.9%. Growth was mainly driven by investment, but consumption played a substantial role as well. Both were supported by continued stimulus measures of the Chinese government. Foreign trade recovered further. But the high growth rate was also due to the depressed year-earlier level, when the Chinese economy hit the bottom of the crisis. For the year 2010 as a whole the GDP is expected to grow by 9.5%: However, there are some risks lurking ahead, such as a 'double-dip' recession of the world economy, caused by sovereign debt risk , an early budgetary consolidation in Europe and a still fragile recovery in the USA and Japan. As for the domestic economy, the biggest challenges come from the real estate market, rising inflation and the escalation of related labour disputes. These are the main results of a report titled 'China: economy fast on track', part of the new medium-term forecast published by the Vienna Institute for International Economic Studies (wiiw).
Reference to wiiw databases: wiiw Annual Database
Countries covered: China