Coming and Going: Gains and Losses from Relocations Affecting Hungary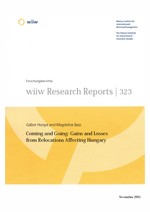 publication_icon
Gabor Hunya and Magdolna Sass
wiiw Research Report No. 323, November 2005
23 pages including 6 Tables
Relocation is a way of reducing costs, thus increasing competitiveness, by splitting production and services between countries. The main argument kindling the relocation debate suggests that moving abroad generates job losses in the home country, while production and job gains appear only in the host country. However, positive effects are also present in the home country, due to increasing the overall competitiveness of the companies engaged in relocation, which allows the upgrading of products and jobs. Likewise, income repatriation is a financial gain for the home country, as it may generate further jobs.

The aim of this paper is to shed some light on the size and the labour market effects of relocations in new EU member states (NMS), most notably in Hungary. The discussion starts with an overview of the definition and expected impacts of relocation. Then it moves to the evidence provided by data on FDI and FDI-related income flows. The issue of job creation and destruction is discussed, based on the employment effects of FDI in host countries and on corporate restructuring data in both home and host countries. The main part of the paper is devoted to an analysis of reported relocation cases to and from Hungary between mid 2003 and September 2005.

We have found evidence for the existence of relocation from the EU-15 to the NMS. The number of cases in Hungary amounts to one fifth of the registered FDI projects. But the number of jobs transferred is fairly modest, concentrating in the automotive and the electronics sectors. Relocation-related job losses in home countries are not very numerous either; but they are sectorally and geographically concentrated in those countries which already suffer from unemployment and competitiveness problems. Relocation to and from Hungary is mainly confined to Europe, even if the owner of the transnational company is from a different continent. Also when moving out from NMS locations, multinationals remain in the vicinity and seldom go to China. We have found the FDI-related income transfers significant, but could not assess their impact on job creation in the home country of transnationals.
Keywords: relocation, offshoring, FDI, labour market, Hungary
JEL classification: F21, F23, D21, J23
Countries covered: Austria, Bulgaria, Czechia, Germany, Hungary, Poland, Romania, Slovakia, SEE, Visegrad countries