Die wirtschaftliche Entwicklung in der Schwarzmeerregion und Herausforderungen für eine Internationalisierungsoffensive Österreichs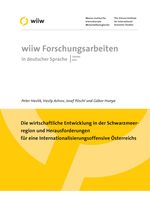 publication_icon
Vasily Astrov, Peter Havlik, Gabor Hunya and Josef Pöschl
wiiw Research Report in German language No. 2010-10, October 2010
32 pages including 7 Tables and 1 Figure
Zusammenfassung

Die wichtigsten Merkmale der Schwarzmeerregion, die eine hohe Relevanz für die wirtschaftliche Entwicklungsstrategie haben, können wie folgt zusammengefasst werden:
Extreme Heterogenität und verbreitete Armut: drei kleine Länder (Armenien, Georgien, Moldau), drei große Länder (Russland, Türkei, Ukraine) sowie Aserbaidschan und die Krasnodar-Region im Mittelfeld. Die Türkei ist das höchstentwickelte Land der Region (BIP pro Kopf: 40% des EU-Durchschnitts), Moldau das ärmste Land Europas.
Die institutionellen Beziehungen mit der EU variieren von Beitrittskandidaten-Status und einer Zollunion (Türkei) über Beitrittsaspirationen und Verhandlungen über ein Freihandelsabkommen (Georgien, Ukraine, Moldau) bis zu eigenständigen Entwicklungsstrategien (v.a. Russland, Aserbaidschan, Armenien).
Eingefrorene bzw. latente Konflikte, die eine integrierte wirtschaftliche Strategie erschweren (Transnistrien in Moldau, Berg-Karabach in Aserbaidschan/Armenien, Abchasien und Südossetien in Georgien/Russland, Halbinsel Krim in Ukraine/Russland, Genozid an Armeniern in Armenien/Türkei).
Hohe Handels- bzw. Leistungsbilanzdefizite und extreme Abhängigkeit von Migranten-Transfers aus dem Ausland (Ausnahmen: Türkei und die Energie-Exporteure Russland und Aserbaidschan), niedrige Wettbewerbsfähigkeit.
Mangelhafte Infrastruktur (Straße, Schiene, Pipelines - letztere jedoch wichtig für die Energieversorgung Europas) und verbreitete Korruption (außer Georgien und Türkei).
Potential für wirtschaftliche Zusammenarbeit in den Bereichen Fremdenverkehr, Landwirtschaft (Lebensmittelindustrie), Energie(transit) und Entwicklungshilfe (KMUs, Mikrokredite, Gesundheitswesen und Umweltschutz).

English Summary
Economic developments in the Black Sea region and challenges for Austria's internationalization initiative

The Black Sea region comprises a number of very diverse countries. The internationalization initiative launched by the Austrian ministry of economy, family and youth has identified the following countries and regions as target areas: Armenia, Azerbaijan, Georgia, Moldova, Turkey, Ukraine und the Krasnodar region in Russia. This report first provides a brief regional overview and then analyses the most important economic features of the above countries, in order to sketch some challenges for an Austrian economic strategy in the region.
 
Keywords: international trade, international relations, regional economics
JEL classification: F1, F5, R1
Countries covered: Russia, Turkey, Ukraine, Armenia, Azerbaijan, Georgia, Moldova, Austria
Research Areas: Macroeconomic Analysis and Policy, International Trade, Competitiveness and FDI