wiiw Forecast Reports
ESTONIA: Investment and revived exports drive growth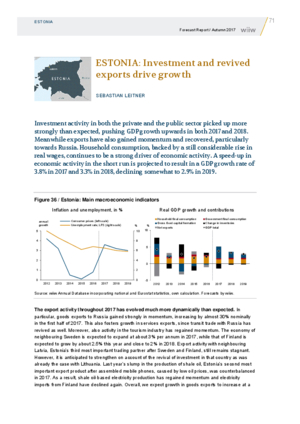 publication_icon
in: CESEE Back on Track to Convergence
wiiw Forecast Report No. Autumn 2017, November 2017 , pp. 71-73
Investment activity in both the private and the public sector picked up more
strongly than expected, pushing GDP growth upwards in both 2017 and 2018.
Meanwhile exports have also gained momentum and recovered, particularly
towards Russia. Household consumption, backed by a still considerable rise in
real wages, continues to be a strong driver of economic activity. A speed-up in
economic activity in the short run is projected to result in a GDP growth rate of
3.8% in 2017 and 3.3% in 2018, declining somewhat to 2.9% in 2019.
Reference to wiiw databases: wiiw Annual Database, wiiw Monthly Database
Countries covered: Estonia