EU focus on trade deals shifts East
17 August 2017
The protectionist attitude of the Trump administration is diverting the EU's attention towards China's investment initiative and a comprehensive trade deal with Japan. A commentary by Julia Grübler.
The US was at the heart of international trade relations, leading talks in mega-regional trade deals with the EU (TTIP) and countries in Latin America and Asia (TPP), before US president Donald Trump took office in January 2017. There was no intention of including China in any of these agreements and only very little attention was paid to the Belt and Road initiative (BRI) presented by China's president Xi Jinping back in 2013.
The situation is now different. The US administration is turning its back on free trade, TTIP negotiations are on hold, and the US withdrew from TPP during its first week of operation. This is pushing other global players to look for viable alternatives. It may have accelerated the approval of CETA (between the EU and Canada) by the European Parliament (15 February 2017) and negotiations between the EU and Japan on a comprehensive Free Trade Agreement (unofficially called JEFTA).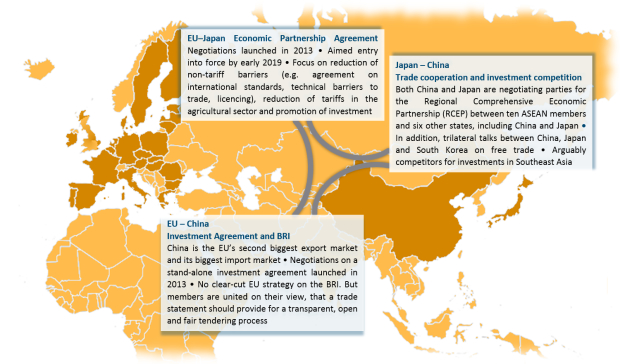 As the US is neglecting its opportunity to shape global standard setting, both the EU and Japan seem to be assigning more weight to the Chinese BRI. However, their attitudes towards China and its large-scale investment initiative are seemingly different. In the EU, managers are trying to increase profits by engaging in Chinese infrastructure investment projects. EU officials, however, are resistant to Mr Jinping's plans, partly due to China's refusal to guarantee a transparent and open tendering process. Nevertheless, the EU is negotiating a stand-alone bilateral investment agreement with China.
Meanwhile, Chinese plans for the Indochina Peninsula Economic Corridor (one out of six envisaged corridors) the BRI will increase investment competition with Japan, which has been investing in infrastructure in Southeast Asia for decades. Together with India (which sees the BRI primarily as a geopolitical threat, as a substantial part of Chinese investment in its rival, Pakistan) Japan is in talks about an alternative silk road.
China and Japan are the EU's biggest and second biggest trading partners in Asia, respectively. Currently the EU has no plan for a comprehensive trade agreement with China. Mutual market access, subsidised exports and a revision of antidumping legislation feature prominently in trade discussions with China, and the differing positions of the two sides remains important obstacles to an agreement.
By contrast, talks between the EU and Japan are at a much more advanced stage. The European Commission expects a deep economic partnership agreement (JEFTA) to be concluded by the end of 2017 and to be operational in spring 2019. It focuses on the reduction of tariffs in the agricultural sector and non-tariff barriers (NTM). The latter includes an agreement on international standards, technical barriers to trade, sanitary and phytosanitary measures, and certification procedures. It also touches upon public procurement procedures, intellectual property rights and the regulation of trade in services.
Perhaps most significant of all is the trade integration process within Asia. With two (TTIP, TPP) out of three mega-regional trade agreements put on ice, the only remaining is the Regional Comprehensive Economic Partnership (RCEP) between the Association of Southeast Asian Nations (ASEAN), which celebrated its 50th anniversary this year, and six other Asian economies including China and Japan. In addition, China, Japan and South Korea are holding trilateral trade talks.
The EU therefore might be right in shifting its focus to the East. With the US voluntarily relinquishing the throne, China (and Asia) is taking centre stage in global trade developments.
photo: Lyn Gateley, CC-BY-2.0