European Innovation Partnerships: How Successful Have They Been in Promoting Innovation in the EU?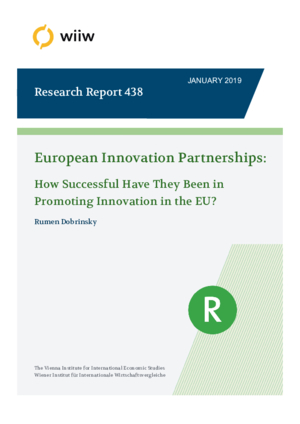 publication_icon
wiiw Research Report No. 438, January 2019
33 pages including 2 Tables and 1 Figure
The paper presents an analytical assessment of the implementation of European Innovation Partnerships (EIPs) launched as one of the commitments of the EU Flagship Initiative Innovation Union with the aim to achieve innovative breakthroughs addressing major societal challenges. The EU launched five EIPs to address important societal challenges: (1) Active & Healthy Ageing; (2) Water; (3) Agricultural Productivity and Sustainability; (4) Raw Materials; and (5) Smart Cities and Communities.
The paper reviews the rationale of introducing the EIPs as a policy intervention aimed at promoting innovation in the EU and traces the organic evolution and governance structures of the newly emerging formations. It then provides an analytical evaluation of this EU policy initiative based on factual analysis of its implementation experiences and a comparison of its objectives and actual outcomes. In particular, the paper analyses the role of the EIPs as drivers of systemic change in the European innovation ecosystem and catalysts of new innovation activity in Europe.
This critical assessment serves as the basis for drawing some conclusions about the strengths and weaknesses of the EIPs as a new policy approach to foster innovation activity in Europe. One central conclusion is that while the EIPs have been very efficient in promoting collaboration among innovation stakeholders they have fallen short of breeding innovation activity of the expected scope and scale. The paper analyses the reasons for this weakness and formulates some recommendations that could serve as possible remedies.
Keywords: Innovation Union, innovation partnerships, innovation systems and ecosystems, innovation policy, innovation governance
JEL classification: O25, O32, O38
Countries covered: European Union
Research Areas: Macroeconomic Analysis and Policy