European Union, Russia and Ukraine: Creating New Neighbourhoods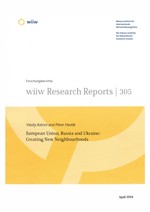 publication_icon
Vasily Astrov and Peter Havlik
wiiw Research Report No. 305, April 2004
26 pages including 6 Tables and 3 Figures
The EU, on the one hand, and Russia and Ukraine, on the other, are very unequal partners in nearly all respects - a fact manifesting itself also in their economic relations. The EU is a relatively important trading partner for Russia and (although less so) for Ukraine. However, apart from being suppliers of energy carriers and metals, the role of Russia and Ukraine as trading partners for the EU is marginal (in the case of Ukraine even negligible). This is partly due to the existence of numerous mutual trade barriers, but, more generally, it reflects the slow progress achieved by both countries in restructuring their economies, attracting more FDI and upgrading their export structures in favour of goods with higher value-added.
Apart from the Partnership and Cooperation Agreements (PCAs) and the programmes of technical assistance, the EU's institutional relations with Russia and Ukraine have not progressed much, and even a free-trade area will most probably not be implemented in the short and medium run - definitely not before both countries join the WTO. This proved to be a particular disappointment for Ukraine, which - unlike Russia - considers integration into the EU structures and even EU membership as its ultimate goal. In fact, in a number of important respects, Ukraine's relations and economic integration with the EU are even less advanced than those of Russia. For the time being - and most likely in the future as well - Ukraine is, and will be, more integrated with Russia than with the EU.
Both Russia and Ukraine have recently been focusing their attention on the impact of the EU enlargement (May 2004) on their economies, trying to negotiate concessions in PCAs with the accession countries (Russia) and demanding 'compensations' from the EU for the alleged resulting losses (Ukraine). It appears that these claims are only partly justified, and - given the two countries' weaker economic position - the chances for any compensation are meagre. Politically, Russia may indeed face a somewhat harder EU line at the insistence of the new EU members, whereas Ukraine, which will find itself on the border of the enlarged EU, will most probably benefit. In purely economic (trade) terms, Ukraine is likely to lose from EU enlargement more than will Russia, at least in the short run. In turn, this will foster Ukraine's interest in further strengthening its economic ties with Russia, and signs of this are already visible as Russia is regaining its economic strength. The main challenge for the EU policy-makers in the present circumstances would be to foster a balanced economic integration with both Russia and Ukraine simultaneously, thus avoiding a costly disruption of trade links between these two countries. Such an approach will be indispensable for preventing the emergence of new dividing lines in Europe and promoting new neighbourhood relations.
Keywords: foreign trade, foreign direct investment, integration, EU enlargement
JEL classification: F1, F15, F21
Countries covered: European Union, Russia, Ukraine
Research Areas: Macroeconomic Analysis and Policy, International Trade, Competitiveness and FDI