Financial Market Crisis and Global Imbalances: Consequences for CEE and SEE Countries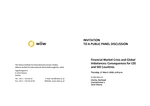 Fabrizio Coricelli, Rumen Dobrinsky, Judit Neményi, Doris Ritzberger-Grünwald and Marko Skreb
Current financial developments and global imbalances of savings and investments are increasingly affecting economic developments. The panel will discuss the consequences for transition countries in Central, East and Southeast Europe. Many of these countries exhibit high credit growth with current account deficits. That raises concerns about the soundness of their financial systems and of other vulnerabilities with important policy implications. There are concerns that some of these economies are overheating and that risks to macroeconomic stability are increasing. Speakers will address the risks to sudden-stop type of crisis, the importance of euro anchorage, the soundness of the banking sector, wage pressures and room for policy adjustment.
Transition Transition Countries and the Inernational Financial Turmoil
Fabrizio Coricelli, Director of Policy Studies, European Bank of Reconstruction and Development
Free Download
The Global Financial Turmoil and its Implications for CEE and SEE: Does Bulgaria Need to Worry?
Rumen Dobrinsky, UN Economic Commission for Europe
Free Download
Financial Market Crisis and Global Imbalances: Consequences for CEE and SEE countries
Doris Ritzberger-Grünwald, Head of Division, Oesterreichische Nationalbank
Free Download
Crisis
Marko Skreb, Chief economist, Privredna Banka Zagreb
Free Download
Contagion and Vulnerability: The Waves of Global Rebalancing in CEE
Judit Neményi, Member of the Monetary Policy Council, Hungary
Free Download
Countries covered: Bulgaria, Visegrad countries, Croatia, SEE