Fiscal Governance and Budgetary Surveillance Reform in the EU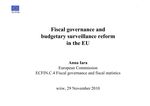 In the course of the financial, economic, and euro-area sovereign debt crisis respectively, shortcomings of the EU economic governance system have become apparent. On 29 September, the European Commission put forward a legislative package of reform proposals to strengthen and extend the existing instruments for economic and fiscal policy co-ordination in the EU. The presentation will discuss the reform proposal with a particular emphasis on fiscal governance at the level of the member states. Besides it will present for discussion ongoing analytical research on the impact of national rules-based fiscal governance on sovereign bond spreads in the euro area.

As a member of the fiscal governance and fiscal statistics unit of the European Commission's Directorate-General for Economics and Finance, Anna Iara has recently been involved in the drafting of the EU legislative proposal on minimum requirements for national budgetary frameworks. Before joining the Commission in early 2009, she was member of the research staff of the Vienna Institute for International Economic Studies and the Center for European Integration Studies of the University of Bonn, where her fields of work included labour economics and migration, regional economics, and applied econometrics. Anna Iara holds a doctoral degree in economics from the University of Bonn and completed her graduate studies at the Central European University (MA in economics) and the University of Bonn (MSc in geography).


Countries covered: European Union
Research Areas: Macroeconomic Analysis and Policy