Fiscal Policy Alternatives for Romania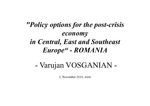 The presentation will focus on the following topics:
- The impact of the global crisis on Romania - the causes of the hard landing.
- Government policies and economic processes in 2009 to Spring 2010 leading to the IMF agreement.
- Results of the IMF evaluations under the support programme - fiscal policy alternatives, measures and results in 2010.
- Fiscal strategy for 2011-2012 - is a new agreement with the IMF necessary?
- The importance of EU programmes for economic development and fiscal stability.
- Currency stability and Romania's road to the euro.

Varujan Vosganian is Chairman of the Economy, Services and Industries Commission of the Romanian Senate and Vice-Chairman of the National Liberal Party. In the former government between 2006 and 2008 he held the post first of the Minister of Economy, later he was also in charge of the Ministry of Finance. He has a degree in both economics and mathematics and a PhD from the Bucharest Academy of Economic Sciences. He participated in various economic reform commissions in the early 1990s, is a founder of the Romanian Society for Economics and also acted as International Adviser to the European Union's Centre for Political Studies. Varujan Vosganian is associate professor at the Academy of Economic Studies in Bucharest, President of the Union of Armenians in Romania and First Vice President of the Romanian Writers' Union.


Countries covered: European Union, Romania