Georgia's Economic Performance: Bright Spots and Remaining Challenges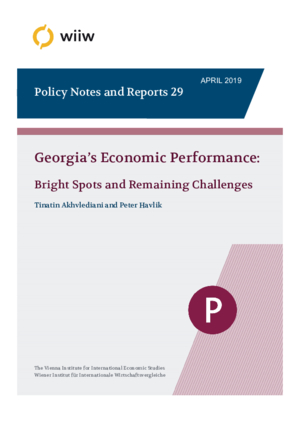 publication_icon
Tinatin Akhvlediani and Peter Havlik
wiiw Policy Note/Policy Report No. 29, April 2019
21 pages including 2 Tables and 13 Figures
Georgia has long been one of the most trade-open economies in the world. It joined WTO in 2000 and currently has a free trade agreement with the EU and EFTA, as well as with Turkey, the CIS and China. Georgia has been also one of the most business-friendly countries. The basic objectives of Georgia's trade policy are integration, liberalisation, diversification and transparency. The Association Agreement (AA) with the EU signed in June 2014 and in force since July 2016 lays the foundations for far-reaching political and economic cooperation with the EU and serves as a backbone for reforms. The Deep and Comprehensive Free Trade Area (DCFTA) agreement that represents a part of AA envisages a gradual implementation of reforms in areas such as trade, environment, agriculture, tourism, energy, transport and education with the aim to bring Georgia in line with EU standards. The DCFTA sets a path for further reforms in trade-related policies, such as hygiene standards for agriculture products, the approximation of regulations for industrial products, enforcement of intellectual property rights at the border, rules on public procurement and approximation to EU rules in the services area. However, there is no prospect for EU membership in the Agreement.
Georgia has been suffering from chronic goods trade and current account deficits; the export base has been very narrow. Foreign trade has been regionally focused on its neighbouring partners. Russia is the largest export market, ahead of Azerbaijan, Armenia, Turkey and China. Among the EU countries, the biggest markets for Georgian exports are Bulgaria and Romania. Exports are highly concentrated and there has not been much export diversification yet. The key exports to the EU include copper ores (39% of the total), nuts, nitrogen fertilisers and mineral oils. The DCFTA apparently has not had much positive effect on Georgian exports to the EU so far, despite some spectacular increases by individual products.
Rather than in goods exports, Georgia has a competitive advantage in services, especially in tourism and transit transport. Georgia has been also relatively successful in attracting foreign direct investment (FDI): cumulated inward FDI stocks amounted to about EUR 4,000 per capita as of mid-2018. A development strategy combining existing competitive advantages of tourism with domestic agriculture (using the excellent domestic wine and delicious local food), supported by structural reforms in the agricultural sector and targeted FDI policies, could be a viable option to foster inclusive economic growth and mitigate external vulnerabilities.
Keywords: Georgia, foreign trade, foreign direct investment, economic integration
JEL classification: E6, F13, P33, O24, O52
Countries covered: European Union, Georgia
Research Areas: Macroeconomic Analysis and Policy, International Trade, Competitiveness and FDI