Global Value Chains in the Post-pandemic World: How can the Western Balkans Foster the Potential of Nearshoring?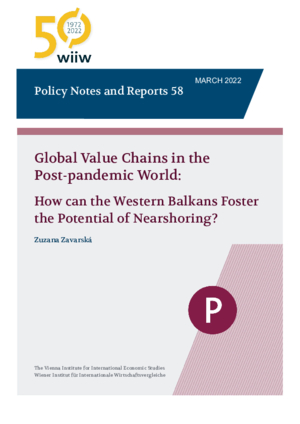 publication_icon
wiiw Policy Note/Policy Report No. 58, March 2022
32 pages including 4 Tables and 17 Figures
The organisation of business activities into global value chains was a defining component of the significant advancements in globalisation witnessed in the three decades leading up to the Great Recession. In the years that followed the speed of global trade integration slowed down, and the COVID-19 pandemic exacerbated the uncertainty surrounding internationally fragmented production processes. More importantly, it made nation states keener to build up greater autonomy in the production of strategic goods, which resulted in notable increases in the scale of restrictive trade policies adopted by countries in the wake of the pandemic. Hence, the 'new normal' is likely to see a greater regionalisation of FDI flows and may lead to some restructuring of existing value chains. This presents an opportunity for transition economies in the Western Balkans, as it implies that firms from major FDI sources in Western Europe will be less inclined to look beyond the continent, giving geographically closer locations a competitive edge over traditional offshoring superpowers like China or India. While it is too early to tell whether the current relatively strong rebound in FDI inflows in the Western Balkans can indeed be attributed to the restructuring of value chains, it paints a relatively optimistic picture regarding the prospects of these economies to establish a firmer FDI presence, particularly in the areas of business services and logistics, which have gained momentum following the pandemic. To reap the full benefits of these opportunities, however, the countries of the Western Balkans must first and foremost step up their investment promotion activities, above all by focusing on improving their infrastructure and education systems and by enhancing their institutional capacities.
Reference to wiiw databases: wiiw Annual Database, wiiw FDI Database
Keywords: FDI, global value chains, value chain restructuring, near-shoring, Western Balkans, COVID-19
JEL classification: F21, F6, O24
Countries covered: Albania, Bosnia and Herzegovina, EU-CEE, Kosovo, Montenegro, North Macedonia, Serbia
Research Areas: Macroeconomic Analysis and Policy, International Trade, Competitiveness and FDI