Greening the economy and its welfare implications
14 February 2017
Environmental regulations are on the rise. In this context, Vera Danilina will present her research on the role of green public procurement on Thursday, 16 February, in Vienna.
Mandatory and voluntary standards on the rise
The onset of the global financial and economic crisis and the observable trade slowdown gave new impetus for research on standards and regulations, their use and their effects. Non-tariff measures (NTMs) affecting human, animal and plant life [sanitary and phytosanitary measures; SPS] feature prominently in public discussions. Not surprisingly, these mandatory regulations primarily concern agricultural products, as shown in the form of orange bars in the graph below.
Product groups affected by NTMs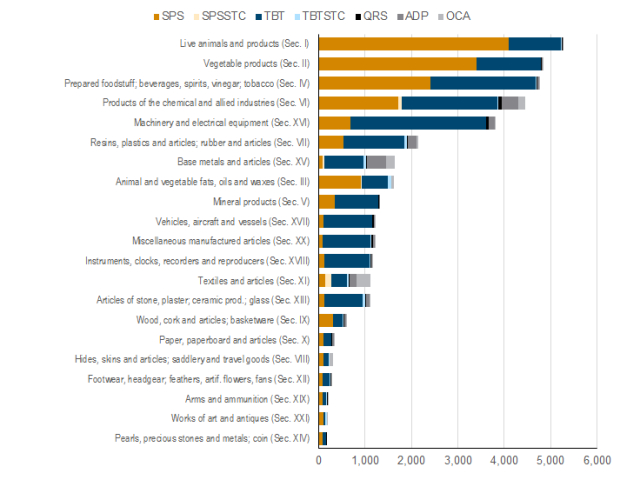 Besides obligatory standards and regulations, a multitude of voluntary standards apply to agricultural products. The International Trade Centre (ITC) collected data on more than 200 standards, which they provide on the Standards Map platform.
There are 35 standards recorded, which potentially apply for agricultural goods produced in Austria and aimed for the US market. If we restrict the focus of the standard to renewable energies, we find eight standards, out of which four are depicted below. The left panel shows the content of each of the four standards, while the right panel further describes the focus of the environmental standards.
The content of four voluntary standards applying to Austrian agricultural produce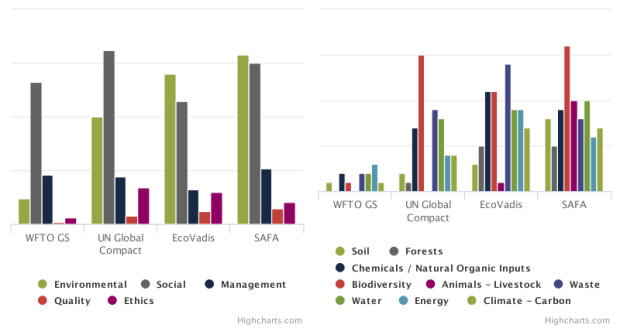 The EU's position on Green Public Procurement
In light of growing concerns about environmental sustainability and a significant rise in mandatory and voluntary environmental regulations, green public procurement (GPP) should be given special attention. Public authorities may shift demand substantially towards more environmentally sustainable products and production processes and stimulate eco-innovation. The EU provides a handbook on green public procurement, identifying (i) buildings, (ii) food and catering services, (iii) road transport vehicles and (iv) energy using products as key GPP sectors.
If implemented successfully, benefits of GPP can be manifold. Obviously, one would expect environmental benefits, as well as benefits to public health e.g. if standards affect agricultural products through quality upgrading or if production processes and transport modes are enforced, which improve air quality.
Short-term economic benefits could arise if GPP allows new entrants to the market of eco-technology. Regarding the products themselves, the EU argues for economic benefits when costs along the product's life cycle (i.e. including recycling, reuse and disposal, are accounted for.
Among other best practices, the European Commission highlighted the achievements of the EcoBuy Programm of the City of Vienna. An assessment of its program in 2014 showed, e.g. that the annual savings of the program amount to approximately 15,000 tons of CO2 emissions per year, 4,000 kg of harmful solvents through environmentally friendly building products and 1.5 million EUR by supporting the use of energy efficient appliances and building technologies.
However, GPP is a voluntary instrument and its take-up by more public authorities still remains a challenge.
Seminar in International Economics: 16 February 2017
Vera Danilina from the Aix-Marseille School of Economics (AMSE) devoted her PhD studies to the analysis of voluntary environmental regulation. On Thursday, 16 February 2017, she will present a paper on green public procurement and its welfare effects, co-authored with Federico Trionfetti  (AMSE, CNRS, EHESS), and will provide us with policy recommendations.
We kindly ask for registration to the event. Participation is free of charge.