wiiw Forecast Reports
HUNGARY: Euro introduction is far far away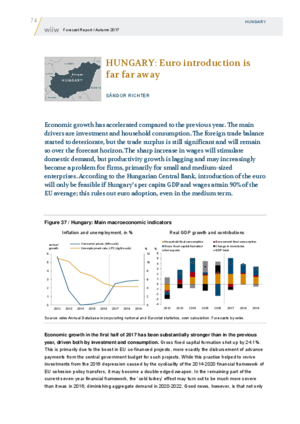 publication_icon
in: CESEE Back on Track to Convergence
wiiw Forecast Report No. Autumn 2017, November 2017 , pp. 74-77
Economic growth has accelerated compared to the previous year. The main
drivers are investment and household consumption. The foreign trade balance
started to deteriorate, but the trade surplus is still significant and will remain
so over the forecast horizon. The sharp increase in wages will stimulate
domestic demand, but productivity growth is lagging and may increasingly
become a problem for firms, primarily for small and medium-sized
enterprises. According to the Hungarian Central Bank, introduction of the euro
will only be feasible if Hungary's per capita GDP and wages attain 90% of the
EU average; this rules out euro adoption, even in the medium term.
Reference to wiiw databases: wiiw Annual Database, wiiw Monthly Database
Countries covered: Hungary