Looking back, looking forward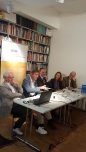 14 November 2019
Footage of a recent wiiw panel discussion on Central and Eastern Europe 30 years after the fall of the Berlin Wall.
Recently, we commemorated the fall of the Berlin Wall with a panel discussion gathering together experts on Central, East and Southeast Europe (CESEE) from various disciplines. They assessed the history, current challenges and future prospects of the region.
We also presented our new Special Report. This included an analysis of the convergence process in CESEE in 1989-2019, a set of essays by our experts on the region, and a summary of our recent research looking to the future of CESEE. In the report we examined of structural factors likely to shape the next 30 years in CESEE, including institutions, demographics, automation, digitalisation and geopolitics.
wiiw Economist Olga Pindyuk presented her essay on the last 30 years in Ukraine, including an assessment of the transition process, comparisons between Ukraine and Poland, and whether there are reasons to be more optimistic about the future.
VIDEO HERE
Follow the discussion with Hannes Swoboda (wiiw President, MEP ret.), Philipp Ther (Professor of East European History, University of Vienna), Martin Kahanec (Professor at School of Public Policy, Central European University), Julia Wörz (Head of the Central, Eastern and Southeastern European Analysis Unit, Foreign Research Division, Oesterreichische Nationalbank), Peter Havlik (wiiw Senior Research Associate) and Mario Holzner (Excecutive Director, wiiw).