Monthly Report No. 11/2020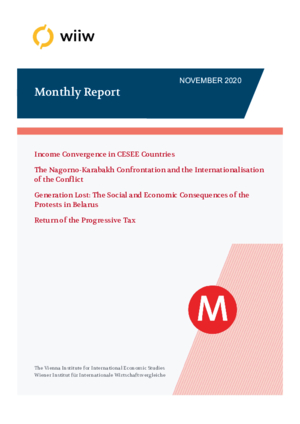 Chart of the month: Income convergence in CESEE countries 
by Alexandra Bykova
Opinion Corner: The Nagorno-Karabakh confrontation and the internationalisation of the conflict
by Sergey Markedonov
The new military escalation in the South Caucasus between Armenia and Azerbaijan has exceeded all previous confrontations in terms of intensity, scale, geographical composition and influence on the neighbours as well as the great powers. This article argues that it opens up new possibilities for Turkey and Iran and reinforces the 'non-polar' world order, creating rifts in long-established alliances.
 
Generation lost: The social and economic consequences of the protests in Belarus 
by Artem Kochnev
The political crisis in Belarus is weighing heavily on the economy, which is still exposed to the twin risks of sovereign debt and a banking-sector crisis. Even if the current elites manage to avoid a balance-of-payments crisis, the long-term prospects for their stay in office are gloomy. By rejecting fair political competition and government accountability they are giving a strongly negative signal to those individuals who create the highest value added in the local economy. The result would be forgone investment opportunities and long-term stagnation.
 
Return of the progressive tax
by Branimir Jovanovic
The countries of Central, East and Southeast Europe (CESEE) have seen their public deficits and debts soar during the COVID-19 pandemic. In the post-COVID-19 world they will have to consolidate them. One way in which to do that is by restoring the progressive income tax, which will give governments the much-needed money without hurting their economies while also reducing inequality.
Monthly and quarterly statistics for Central, East and Southeast Europe
Reference to wiiw databases: wiiw Annual Database, wiiw Monthly Database
Keywords: Income convergence, GDP per capita, Nagorno-Karabakh conflict, non-polar world order, bank run, balance-of-payments crisis, post-materialism index, long-term prospects, flat tax, progressive taxation, COVID-19 pandemic, budget consolidation
Countries covered: CESEE, Belarus, EU-27, Armenia, Azerbaijan, France, Iran, Russia, Turkey, US
Research Areas: Macroeconomic Analysis and Policy