MOSOE: Konjunkturzenit überschritten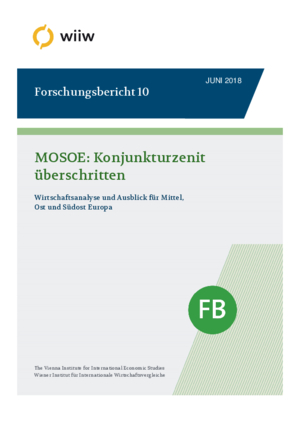 publication_icon
Vasily Astrov and Julia Grübler
wiiw Research Report in German language No. 10, June 2018
91 pages including 105 Tables and 19 Figures
This publication is available in German language only.
For a brief English summary see further below.
MOSOE: Konjunkturzenit überschritten
Die jüngsten Statistiken deuten auf ein weiterhin robustes BIP-Wachstum in den meisten Ländern Mittel‑, Ost- und Südosteuropas (MOSOEL) hin. Der konjunkturelle Höhepunkt scheint allerdings bereits überschritten zu sein. Einerseits lässt die Dynamik der privaten Konsumnachfrage leicht nach, andererseits dämpft die Konjunkturabkühlung im Euro-Raum die Exportentwicklung vieler MOSOEL. Die Investitionen steigen weiterhin kräftig an, getrieben in erster Linie von EU-Transfers in der EU-MOE-Region und von ausländischen Direktinvestitionen im Westbalkan. Ein deutlicher Wachstumseinbruch ist heuer nur in Rumänien und der Türkei zu erwarten – Ländern, deren Wirtschaft sich bislang in einem Zustand der "Überhitzung" befand.
Vor dem Hintergrund der österreichischen EU-Ratspräsidentschaft und divergierender Handelspolitiken der weltgrößten Volkswirtschaften werden auch die immer engeren wirtschaftlichen Verflechtungen Österreichs mit den MOSOEL analysiert. Insbesondere die Visegrád-Staaten gewinnen für den österreichischen Güterhandel, Tourismus und auch als Investitionsstandorte an Gewicht. Österreich präsentiert sich als Top-10-Exportdestination für sieben der MOSOEL, für acht zählt es zu den zehn wichtigsten Ländern für Importe, und für siebzehn Länder rangiert Österreich unter den Top-10-Investoren.
Ausgewählte Indikatoren zu den österreichischen Wirtschaftsbeziehungen mit den MOSOEL können kostenlos über interaktive Visualisierungen erkundet werden.
English Summary
CESEE: Growth has passed its peak
The latest statistics point to ongoing robust GDP growth in most countries of Central, East and Southeast Europe (CESEE). However, the growth peak seems to have already been passed. On the one hand, private consumer demand is weakening slightly; on the other hand, the economic slowdown in the eurozone is dampening the export performance of many CESEE countries. Investment continues to grow strongly, driven primarily by EU transfers in the EU-CEE and by foreign direct investment in the Western Balkans. A significant slump in growth this year can only be expected in Romania and Turkey, countries whose economies have been 'overheating'.
In the context of the Austrian Presidency of the Council of the European Union and diverging trade policies of the two largest economies in the world, we analyse the deepening economic relations between Austria and the CESEE countries. The Visegrád states in particular are gaining weight for Austrian trade in goods, tourism and as FDI destinations. From the perspective of CESEE, Austria represents a top 10 export destination for seven countries, a top 10 source country for imports for eight countries and a top 10 investor for even seventeen countries in the region.
Explore a selection of indicators on Austria's economic ties with CESEE free of charge with our interactive data visualisations.
Reference to wiiw databases: wiiw Annual Database, wiiw Monthly Database
Keywords: Konjunkturprognose, Mittelosteuropa, Westbalkan, MOSOEL, Österreich, EU Ratsvorsitz, internationaler Handel, Investitionen, FDI, Digitalisierung, Migration, Economic forecast, Central and Eastern Europe, Western Balkans, CESEE, Austria, Presidency of the EU Council, international trade, investment, FDI, digitalisation, migration
JEL classification: E20, E66, O52, O52, O57, P24, P27, P33, P52
Countries covered: Albania, Austria, Belarus, Bosnia and Herzegovina, Bulgaria, Croatia, Czechia, Estonia, European Union, Hungary, Kazakhstan, Kosovo, Latvia, Lithuania, North Macedonia, Montenegro, Poland, Romania, Russia, Serbia, Slovakia, Turkey, Ukraine, Slovenia
Research Areas: Macroeconomic Analysis and Policy, Labour, Migration and Income Distribution, International Trade, Competitiveness and FDI