Maryna Tverdostup receives Schumpeter Young Economist Award

15 June 2022
wiiw economist Maryna Tverdostup has been awarded the Schumpeter Young Economist Award 2022.
image credit: Maryna Tverdostup/OeNB
The Schumpeter Award was established in honor of Austrian economist and social scientist Joseph A. Schumpeter (1883–1950), to recognize outstanding academic achievements in the field of economics, economic policy, and entrepreneurship. The Schumpeter Award was presented to the European Commissioner for Competition and Digital Affairs Margrethe Vestager to mark her commitment to fair competition and tax justice in the European Union.
This year, the Schumpeter Young Economist Award was awarded for the first time to two young scholars – the micro-economist Anja Prummer from Johannes Kepler University Linz and the labour economist from wiiw Maryna Tverdostup.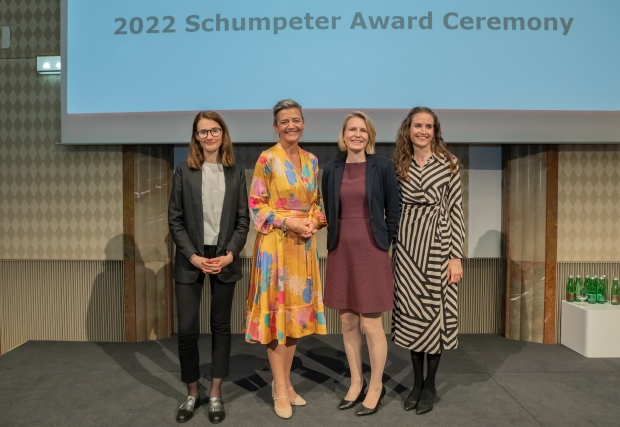 In her research at wiiw, Maryna Tverdostup investigated factors behind labour market inequalities, with a special focus on gender and migration disparities. Her core research interest lies in the field of individual and family-level determinants of wage and employment inequalities, including behavioural aspects and personality traits. Her studies also address the role of intra-family decisions in shaping employment decisions. In her most recent research with colleagues from wiiw, she focuses on labour market integration of Ukrainian refugees, addressing major opportunities and challenges they pose to European Union labour markets.
Maryna Tverdostup holds a Master's degree in Financial Mathematics from the University of Tartu and PhD degree in Economics from the same university. She worked as a Post-Doc at the Universtiy of Innsbruck and a visiting researcher at Aalto University. She is actively involved in the research and teaching at the University of Tartu.