Osteuropa trotzt dem globalen Gegenwind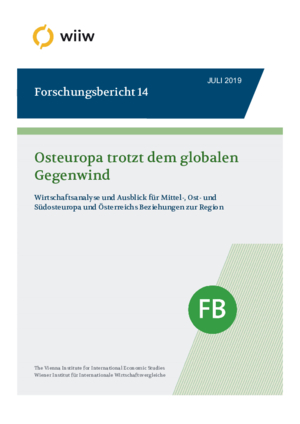 publication_icon
Vasily Astrov and Julia Grübler
wiiw Research Report in German language No. 14, July 2019
91 pages including 109 Tables and 22 Figures
This publication is available in German language only.
For a brief English summary see further below.
Die Konjunktur in den mittel-, ost- und südosteuropäischen Ländern (MOSOEL) kühlt sich zwar ab, aber viel weniger als noch im Frühjahr erwartet: Die Prognosen für heuer wurden für die Mehrheit der Länder nach oben revidiert. Vor allem in der EU-MOE-Region hat sich das Wachstum vom Abschwung im Euro-Raum recht deutlich abgekoppelt. In einigen Ländern mehren sich sogar die Anzeichen einer Überhitzung, die allerdings nur in Rumänien Anlass zur Sorge gibt. Die Westbalkanländer profitieren von steigenden FDI-Zuflüssen, mehrere GUS-Länder von der expansiven Fiskalpolitik. In Russland dagegen hat der restriktive fiskalpolitische Kurs die Wirtschaft an den Rand einer Rezession gebracht. Die Wirtschaftskrise in der Türkei erwies sich zwar tiefer als früher erwartet, dürfte aber spätestens 2020 überwunden sein.
Insbesondere die Visegrád-Staaten gehören zu Österreichs wichtigsten Wirtschaftspartnern. Ihnen waren im Jahr 2018 mehr als 10% des österreichischen Güterhandels, 20% der Einkommen aus Direktinvestitionen sowie 40% der Auslandsforderungen österreichischer Banken zuzurechnen. Gleichzeitig sind sie auch EU-Mitglieder mit brisanten politischen und wirtschaftlichen Herausforderungen, von welchen auch Österreich nicht unberührt bleiben wird.
English Summary
Eastern Europe standing firm in face of global headwinds
The economy in the Central, East and Southeast European countries (CESEE) is cooling down, but much less than expected in the spring: the forecasts for this year have been revised upwards for the majority of countries. Particularly in the EU-CEE region, growth has decoupled quite clearly from the downturn in the euro area. In several countries there are even signs of overheating, although only in Romania this is a cause for concern. The Western Balkans are benefiting from rising FDI inflows, while several CIS countries from expansionary fiscal policy. In Russia, on the other hand, the restrictive fiscal policy has brought the economy to the brink of recession. Although the economic crisis in Turkey proved to be deeper than previously expected, it should be overcome by 2020 at the latest.
The Visegrád countries, in particular, prove very important for the Austrian economy. In 2018, they accounted for more than 10% of Austrian goods trade, 20% of income generated by Austrian investment abroad, as well as 40% of foreign claims of Austrian banks. At the same time, they are among the EU Member States facing increasing political and economic challenges, by which Austria will not be unaffected.
Reference to wiiw databases: wiiw Annual Database, wiiw Monthly Database
Keywords: Konjunkturprognose, Mittelosteuropa, Westbalkan, Visegrád, Österreich, EU-Osterweiterung, Außenhandel, Investitionen, FDI, Automatisierung, Arbeitskräftemangel, Migration, economic forecast, Central and Eastern Europe, Western Balkans, Visegrád, Austria, EU Eastern Enlargement, international trade, investment, FDI, automation, labour shortages, migration
JEL classification: E20, E66, O52, O57, P24, P27, P33, P52
Countries covered: Austria, Albania, Belarus, Bosnia and Herzegovina, Bulgaria, Croatia, Czechia, Estonia, European Union, Hungary, Kazakhstan, Kosovo, Latvia, Lithuania, Moldova, Montenegro, North Macedonia, Poland, Romania, Russia, Serbia, Slovakia, Slovenia, Turkey, Ukraine
Research Areas: Macroeconomic Analysis and Policy, Labour, Migration and Income Distribution, International Trade, Competitiveness and FDI