The Transition Economies: Externally Conditioned Improvements in 2000, Slowdowns and Adjustments Likely in 2001 and 2002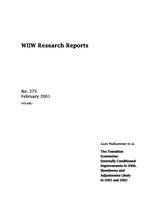 publication_icon
wiiw Research Report No. 275, February 2001
93 pages including 22 Tables and 5 Figures
For the first time since the transformation began, all transition economies recorded GDP growth in the year 2000. Some of the traditional 'losers' grew much faster than the traditional 'winners' of the transition process. The average growth rate in the region more than doubled and the differences in the rates of GDP change narrowed significantly. No currency, current account, or banking crises occurred and all countries managed to accommodate the shock of high oil prices. The highest growth rates were recorded in countries with a very low base, under exceptionally favourable external conditions. Strong growth in the EU contributed to the growth acceleration in most more advanced countries. Expansion of exports and imports did not yet generally reduce trade deficits and current account deficits are still a major problem for some countries, though the inflows of foreign capital have so far made their financing unproblematic. Growing industrial production was almost everywhere combined with some contraction in employment. Labour productivity improved, but rates of unemployment generally increased. The process of disinflation was perturbed by rising world market energy prices and hikes in rates of indirect taxation.

With the coming slowdown of growth in the EU, the export sectors of the transition countries will come under pressure in 2001. On account of higher levels of technological development and the existing degree of integration into the world economy, the Hungarian, Slovenian - and to a lesser degree also the Czech and Slovak - industry will be in a better position to withstand the deterioration in the EU business climate. Nonetheless, the expected rate of GDP growth will drop to 3% on average in 2001. The expansion of trade (and current account) deficits will be moderated due to the stabilization of the world oil market. Weakening growth in the EU may have serious consequences particularly for Poland, Bulgaria, the Czech Republic and Romania. The recent tendencies in Poland indicate that the growth slowdown here may be more pronounced than elsewhere. Poland (and to a much lesser degree Bulgaria) seems more vulnerable to the negative effects of high current account deficits than other countries. Unless oil prices slump dramatically, the recovery in Russia will continue, though at a lower pace. The recovery in Russia will also be supporting growth in Ukraine.

The prospects for 2002 are so far uncertain, though a moderate acceleration of GDP growth in the transition countries is likely. But much will depend on the degree of the growth slowdown in the EU and on the resultant adjustments in the transition countries. Whether or not growth accelerates in the EU remains to be seen; even if it is strong, the current uncertainties are likely to result in downscaling of investment activities (including greenfield foreign direct investment) in the transition countries.
Keywords: Central and East European transition countries, forecast, East-West trade, European Union, EU enlargement
JEL classification: O52, O57, P24, P27, P33, P52
Countries covered: Bosnia and Herzegovina, Bulgaria, Croatia, Czechia, Hungary, North Macedonia, Poland, Romania, Russia, Serbia and Montenegro, Slovakia, Slovenia, Ukraine, SEE, Visegrad countries
Research Areas: Macroeconomic Analysis and Policy, International Trade, Competitiveness and FDI