Monthly Report No. 09/2020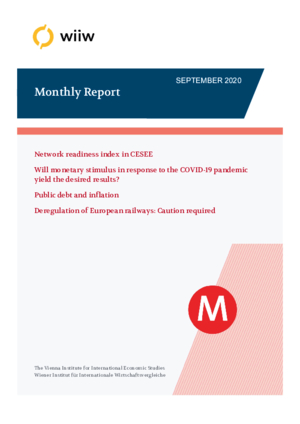 Chart of the month: Network readiness index in CESEE 
by Doris Hanzl-Weiss
Opinion Corner: Will monetary stimulus in response to the COVID-19 pandemic yield the desired results?
by Josef Pöschl and Vasily Astrov
Massive monetary stimulus is being used to offset the negative economic effects of the COVID-19 induced lockdowns. While it has prevented the collapse of the financial markets, it is unlikely either to fuel inflation or to boost GDP growth. The latter mainly depends on fiscal measures.
 
Public debt and inflation 
by Leon Podkaminer
Granger non-causality tests applied to data for a large set of countries indicate that the public debt/GDP ratio is generally a poor 'leading indicator' for the price level, while the growth rate of the public debt/GDP ratio is generally a poor 'leading indicator' for the inflation rate. Moreover, in a few cases the rising public debt/GDP ratio appears to have depressed inflation. The widespread conviction that expanding public debt must sooner or later lead to higher inflation is empirically unfounded.
Deregulation of European railways: Caution required
by Vasily Astrov and Doris Hanzl-Weiss
In 1991, the European Commission initiated the gradual deregulation of the railway sector, with the aim of making it more efficient and less dependent on government subsidies. However, the results of the deregulation of rail passenger services so far have been at best mixed. A sustainable reduction in subsidies has proved largely elusive, while competitive markets in rail passenger transportation have been confined to lucrative routes with high passenger turnover.
Monthly and quarterly statistics for Central, East and Southeast Europe
Reference to wiiw databases: wiiw Annual Database, wiiw Monthly Database
Keywords: Network readiness index, money demand, velocity of money, asset prices, public debt, inflation, Granger causality tests, 'contestable markets' theory, competitive tendering, open access
Countries covered: CESEE, Euro Area, European Union, Japan, United Kindom, USA
Research Areas: Macroeconomic Analysis and Policy, Sectoral studies