wiiw FDI Reports: since 2002 (23 publications found)
The wiiw FDI report is based upon the wiiw FDI Database covering 23 countries of CESEE. It analyses the major features of FDI developments in and out of the countries of the region and is published annually beginning of June. It is available in hardcopy or for download (PDF).
Note: From 2013 an online access with an easy query tool is available for the whole wiiw FDI Database instead of a CD-ROM before.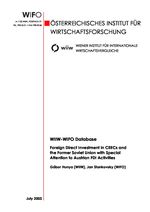 publication_icon
Foreign Direct Investment in CEECs and the Former Soviet Union - with Special Attention to Austrian FDI Activities
Gabor Hunya
wiiw FDI Report No. 2003-07, July 2003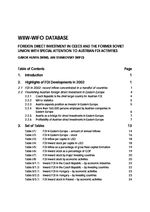 publication_icon
Foreign Direct Investment in CEECs and the Former Soviet Union - with Special Attention to Austrian FDI Activities
Gabor Hunya
wiiw FDI Report No. 2003-02, February 2003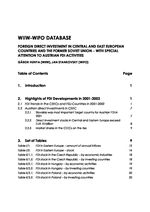 publication_icon
Foreign Direct Investment in Central and East European Countries and the Former Soviet Union - with Special Attention to Austrian FDI Activities
Gabor Hunya
wiiw FDI Report No. 2002-07, July 2002