Prospects for Development in South-East Europe (Reprint; first published by Bank Austria, Vienna, December 2000)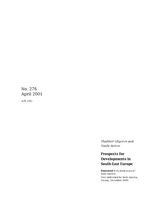 Southeast Europe (SEE) has been lagging in transition and development. For political, security and institutional reasons, it has developed in a non-standard way. However, the prospects for reforms and growth are now better than they have been in a decade, if not longer. There are positive political changes and there are signs of economic recovery. Also, there is increased openness to foreign business participation.

In the SEE countries, stabilization has been put ahead of institutional transformation in almost all cases. As a consequence, significant macroeconomic disequilibria have emerged, especially in external economic relations and on labour markets: trade and current account deficits are high as are the unemployment rates. However, price stability seems to have been sustained in most of the region and growth rates are turning positive throughout the region. Thus, with further reforms, a momentum may develop for sustained development.

SEE is a diverse region in terms of development and in terms of intra-regional and inter?regional integration. GDP per capita is low on average, but it varies significantly across countries in the region. There are too many borders that are often quite difficult to cross. Also, the countries in the region have quite diverse relations with the European Union.

After years of negative growth, most countries in the region are growing. This growth should continue. There may be problems with macroeconomic adjustments and with institutional reforms, but there are signs that the current growth is coming as a consequence of restructuring that is taking place. If that proves to be true, the region may offer significant business opportunities as it is in fact rather large (55 million people) with a reasonably skilled work force. There is an increasing inflow of foreign direct investment (FDI). This is driven by the need to substitute non-debt-creating financial inflows for debt-creating ones. The financial inflows are necessary because foreign debt is, as a rule, high and because current accounts are almost invariably and persistently in the red. Also, privatization is speeding up and fiscal constraints are pushing companies to adjust to the markets and thus to look for better owners and better managers.

One sector that is especially weak is banking. Though there were attempts in many cases to preserve the monopoly of the domestic banks, those efforts invariably failed and much of the industry is being sold to foreigners. The prospects are that the whole industry will be mainly foreign-owned.


The region offers significant comparative advantages. Human capital endowment is one. Wages are low and labour is relatively skilled. Thus, the region has advantages in all sectors which are labour-intensive. This goes for agriculture, certain industries (textiles, leather, shoes), extraction, which is still somewhat important, wood, durable consumer goods, pharmaceuticals, and electronics. Services, tourism, construction, transportation (vehicles, ship-building) as well as internet-based economic activities offer significant opportunities.

SEE economies are mostly small (except for Romania) and are actually or potentially open or very open economies. Their main trading partners are in the EU. Intra-regional trade is important only exceptionally. This direction of trade will remain in the future, and will probably be strengthened once trade distortions are removed. The flow of investments shows the same direction. Therefore, economic integration with the EU is all but inevitable.

The labour markets present major problems. Both employment and unemployment are unsatisfactory. There is too much black market employment and too little regular employment. The unemployment rates vary from significant to high to catastrophic. There are any number of other problems with the labour markets that have to be dealt with through restructuring.

Prospects for EU integration are also better than they have been for a long while. Bulgaria and Romania are candidate countries while the rest are candidates for Stabilization and Association Agreements. This asymmetry is creating problems of perception in the region, i.e., everybody thinks that the chances of joining the EU are remote, thus these prospects do not play too much of a role in the day-to-day politics. Still, the effort that is put in the Stability Pact may prove helpful in forging a better chance for the region to move more quickly towards adopting those reforms and policies that would bring it closer to the EU.

In conclusion, business opportunities are bound to improve in SEE. The conditions are going to remain less than standard, but there is an international effort to help the business community to enter this region and help in its transformation. This is going to be done by public investments and by public and other guarantee schemes for prospective private investors, both domestic and foreign. If growth stabilizes, business should be good.
Keywords: development, FDI, growth, integration
JEL classification: O1, O20, F15
Countries covered: SEE
Research Areas: Macroeconomic Analysis and Policy, Regional Development