Public Expenditure and Tax Policy for the Post-War Reconstruction of Ukraine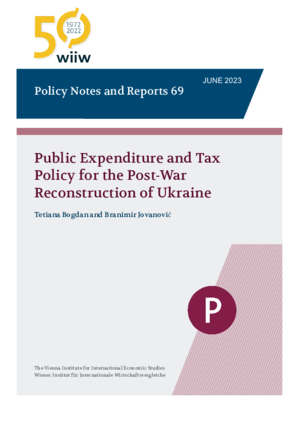 publication_icon
Tetiana Bogdan and Branimir Jovanović
wiiw Policy Note/Policy Report No. 69, June 2023
65 pages including 13 Tables, 14 Figures and 1 Box
Public spending will play the decisive role in the reconstruction of Ukraine, in rendering aid to the population, providing emergency services, reconstructing infrastructure and driving industrial development in the coming years. For economic recovery and sustainable development in the post-war period, defining the volume and structure of the main public expenditure categories in the medium run are essential. The report outlines priorities and timelines for public funds allocation in the areas of transport and electric power networks, the recovery of agricultural farms, restoration of social infrastructure, reconnecting people to educational and health care services, rebuilding destroyed housing stock and development of the modern defence sector.
The role of foreign aid in the post-war recovery is highlighted and efficient mechanisms for coordination and reconciliation of Ukrainian public expenditure with external donor funding are suggested. Moreover, the authors propose tax reform measures with a focus on personal income taxation, social security contributions and improving tax collections that are targeted at financing Ukraine's reconstruction needs.
A debt sustainability analysis (DSA) for the period 2023-2026 is undertaken with probabilistic judgments regarding the trajectory of public debt and the availability of financing. The results indicate that raising the share of foreign grants (vs. loans) plus substantial haircuts to the nominal values of debt will be necessary for supporting Ukraine's debt sustainability.
Keywords: Ukraine, public expenditure, tax reform, post-war reconstruction, debt sustainability
JEL classification: H56, H20, H41, H63
Countries covered: CESEE, Ukraine
Research Areas: Macroeconomic Analysis and Policy