Response to the Economic Crisis in Ukraine and the Medium-term Outlook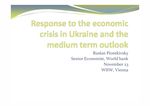 The presentation provides an overview of Ukraine's record to date in dealing with the current economic crisis. Pre-crisis vulnerabilities of Ukraine are discussed as well as main channels through which the global financial and economic crisis affected the economy. The response to the crisis by Ukrainian authorities and the role of the International Financial Institutions, focusing on the World Bank assistance, are explored. The talk concludes with the presentation of the World Bank's current medium-term outlook for the economy, highlighting both the factors of macroeconomic stabilization and remaining structural reform challenges to facilitate the recovery.

Ruslan Piontkivsky is a Senior Economist with the World Bank, based in the regional office in Kiev, Ukraine. He joined the Bank in 2003, and works on the issues of macroeconomic analysis and forecasts, fiscal policy, public debt management, quasifiscal deficits in the energy sector and trade policy. He participated in the preparation of the Development Policy Loans extended to Ukraine since 2003. He contributed to the World Bank analytical reports on Ukraine, such as 'Country Economic Memorandum', 'Public Finance Reviews' and 'Trade Policy Study', as well as to policy notes on economic policy issues. Prior to the World Bank, he worked for the International Centre for Policy Studies and for the Support for Economic and Fiscal Reform project. Mr. Piontkivsky received an MA in Economics from the EERC programme in the National University of Kiev Mohyla Academy in 1999.
Countries covered: Ukraine