Still standing: how European firms weathered the crisis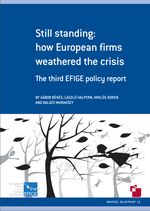 László Halpern (Research Centre for Economic and Regional Studies, Hungarian Academy of Sciences) and Gábor Békés (Central European University, Budapest)

What impact has the Great Recession had on European firms? In 2008 and 2009, the European Union experienced a 14 percent decline in industrial production, and a 15 percent decline in trade. Companies were hit hard, going through an average 10 percent sales decline, and reducing their workforces by 6 percent. But the unique firm-level dataset compiled from the EFIGE survey shows that not all firms were affected in the same way. Exporters contracted more than non-exporters, while importers, and those that outsource some of their production or have an affiliate suffered less of a decline. These findings raise an important policy trade-off. While export-oriented strategies might improve competitiveness, they also bring about a greater exposure to foreign crises. However, outsourcing to other countries has distinct stabilisation benefits. Dominant firms centrally placed in the technology, trade and ownership network, fared better, but firms relying on external finance, and experiencing financial constraints to growth, experienced greater sales declines.