The Financial Crisis in Central, Eastern and Southeastern Europe: What Is to be Done?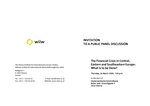 The current global economic crisis is affecting the countries of Central, Eastern and Southeastern Europe (CEE and SEE) in some ways more severely than other European countries. Moreover these economies face more con-straints in putting the types of policies in place which are currently pursued in most of Western Europe, the USA and Japan. However, policies designed to stabilize the banking system and provide fiscal stimulus have as much justifi-cation to be pursued in these economies as in the higher-income countries. Therefore a coordinated approach by EU institutions and EU governments (in cooperation with IFIs) is needed to find a path out of the crisis.
This panel will discuss how the international financial crisis is affecting different CEE and SEE economies as well as the possibility for coordinated policy packages to be put in place.
ESCE Problems
Kurt Bayer, Director, European Bank of Reconstruction and Development
Free Download
Financial crisis in the Czech Republic?
Jan Mládek, Chairman, Fontes Rerum
Free Download
The impact of the economic crisis on Hungary
Gábor Obláth, Member of the Fiscal Council, Republic of Hungary
Free Download
The case of Serbia
Pavle Petrovic, Professor of Economics, University of Belgrade
Free Download
Countries covered: Visegrad countries, SEE, Czechia, Hungary, Serbia