Transition Countries Clamber Aboard the Business Boom in Western Europe. Upswing masks persistent transition-related problems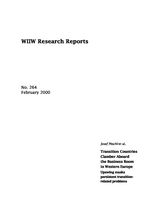 publication_icon
Josef Pöschl
wiiw Research Report No. 264, February 2000
102 pages including 27 Tables and 11 Figures
This report provides an overview of macro-economic developments in 1999 and discusses the economic outlook for the next two years. It covers twelve transition countries: Bulgaria, Croatia, the Czech Republic, Hungary, Macedonia (FYRM), Poland, Romania, Russia, Slovakia, Slovenia, Ukraine and Yugoslavia (Serbia and Montenegro). In a few graphs and tables as well as in some passages of the text the Baltic States have been included, together with Germany as a reference country, so as to provide a broader view.

In the recent past, more or less all transition countries were confronted with a slowdown of economic growth or even an intensifying GDP decline. GDP growth rates tumbled from quarter to quarter. The trend bottomed out in late 1998 or early 1999. Despite this general tendency, the contrast between individual countries was striking. In the second quarter of 1999 growth rates started to rise once more in one group of countries -- and GDP shrinkage diminished in the other. For all countries more recent data point to an improving business climate. Industrial output statistics reveal a quite similar tendency: a downswing in 1998 and an upswing in 1999 in all CEECs plus Russia. Labour productivity growth rates in industry behaved correspondingly: In most of the countries, they turned negative in 1998 and rose in 1999. Unit labour costs in euro terms rose in most of the countries during the slump but relaxed thereafter.

From a longer-term point of view, only three of the transition countries considered in this report -- Hungary, Poland and Slovenia -- give the impression of having been relatively successful. They were able to achieve and maintain GDP growth. Other economies started growing substantially at some point of time, only to experience severe setbacks later. The phenomenon of permanent or re-emergent transitional recession has appeared in countries where the transformation of the financial and non-financial corporate sector has been incomplete, thus restricting the efficiency of the new institutions and institutional settings. In most of the countries related problems are persisting, so that we can expect some temporary upswing for this and the coming year, but no smooth continuation of growth at high rates.

The WIIW forecasts a strengthening of the positive signals now visible. Thus, in 2000 in almost all transition countries GDP growth will be better than it was in 1999 and may strengthen further in 2001. Over the next few years, most of the countries will encounter difficulties in their attempts to secure high GDP growth, while simultaneously limiting their current account deficits. Countries with two-digit inflation rates will enjoy some measure of decline, while those that already enjoyed relatively low rates in the past will experience some increase. An unemployment rate of around 12% seems to be establishing itself as the norm for the transition countries.
Keywords: Central and East European transition countries, forecast, East-West trade, European Union, EU enlargement
JEL classification: O52, O57, P24, P27, P33, P52
Countries covered: Bulgaria, Croatia, Czechia, Hungary, North Macedonia, Poland, Romania, Russia, Serbia and Montenegro, Slovakia, Slovenia, Ukraine, SEE, Visegrad countries
Research Areas: Macroeconomic Analysis and Policy