Transition Countries Face Up to Global Stagnation: Is It Catching?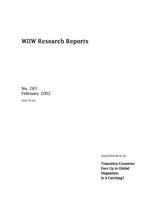 publication_icon
Josef Pöschl
wiiw Research Report No. 283, February 2002
95 pages including 29 Tables and 14 Figures
The report provides an overview of macroeconomic developments in 2001 and discusses prospects for 2002 and 2003. It covers twelve transition countries: Bulgaria, Croatia, the Czech Republic, Hungary, Macedonia, Poland, Romania, Russia, Slovakia, Slovenia, Ukraine and Yugoslavia. It also includes Bosnia-Herzegovina, albeit not fully, for want of data.

By the second half of 2001, the slowdown in global economic growth in leading economies had developed into stagnation, whereas in the countries of Central and Eastern Europe (CEECs) GDP kept on growing; some of the latter countries even recorded growth rates higher than in 2000. That notwithstanding, data related to the final months of 2001 point to a slowdown in GDP growth as well, as industrial output growth faded and foreign trade lost its dynamics.

In most of the CEECs, inflation dropped to rates lower than a year before, yet still higher than the EU average. Towards the end of 2001, instances of a month-to-month decline in consumer and producer prices became frequent, inducing a trend towards more stability. The more advanced CEECs except Slovenia experienced nominal appreciation of their currencies, in most cases for the first time in years. This implied strong real appreciation, yet given the slowdown in GDP and import growth, it did not lead to huge trade and current account deficits. There is, however, every danger of real appreciation veering out of control in the future. The central banks' interest rate policy varied greatly in the individual countries. Whereas the Czech national bank followed the example set by the US Federal Reserve Bank, others opted to maintain high nominal and real interest rates.

In the first half of 2002, most of the CEECs will not experience very much growth in GDP, industrial output and exports. In the second half, improvements in the EU business climate should boost growth again. Should these optimistic expectations materialize, high GDP growth will be back on track in 2003.
Keywords: Central and East European transition countries, forecast, East-West trade, European Union, EU enlargement
JEL classification: O52, O57, P24, P27, P33, P52
Countries covered: Bosnia and Herzegovina, Bulgaria, Croatia, Czechia, Hungary, North Macedonia, Poland, Romania, Russia, Serbia and Montenegro, Slovakia, Slovenia, Ukraine, SEE, Visegrad countries
Research Areas: International Trade, Competitiveness and FDI, Sectoral studies