Transitions in the Arab World: Any Lessons from CESEE?

21 November 2013
wiiw Senior Economist and former Deputy Director Peter Havlik presents main lessons from the CESEE economic transitions for the Arab Spring countries at a major international conference in Baku, Azerbaijan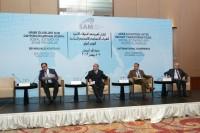 The International Conference on Arab Countries after Recent Transformations: Social, Economic and Political Changes has recently been organised by the Center for Strategic Studies under the President of the Republic of Azerbaijan (SAM) in Baku, Azerbaijan. Experts from the Arab world, other Middle East countries and the West assessed the political, social, economic and public transformations that have taken place in the region in the aftermath of the Arab Spring. The conference conveyed an interesting insight into the meaning and significance of the Arab revolutions through the eyes of Arab officials, intellectuals and scholars and revealed how they understand these changes, their outcomes and perspectives.
wiiw Senior Economist and former Deputy Director Peter Havlik was invited to give a presentation on possible lessons to be drawn from the transition in Central, East and Southeast Europe (CESEE). He pointed to the disappointing economic growth, high unemployment and popular disillusion in the region as a trigger of the changes and stressed that the instability, social and political unrest will likely continue to hamper the transition process. A key lesson from the CESEE transitions is that an important institutional reform anchor – namely the prospect for EU membership – is missing for the Middle East and North African (MENA) countries. Regional integration could help to boost economic growth, trade and investment while underpinning the commitment for a managed and smooth transition. Peter Havlik furthermore outlined a reform agenda for the region, consisting of four major policy areas: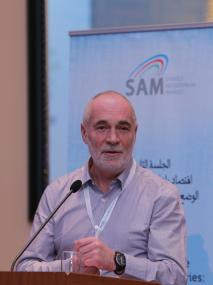 Public governance: improving efficiency, transparency and accountability;
Social policy: increasing social and economic inclusion;
Private sector development: modernising the private sector, supporting private sector development and job creation, improving the business climate;
Trade policy: trade restructuring and diversification (via FDI), job creation, as well as support for regional integration.
At the same time, he warned that transformational recessions, long transition periods and likely setbacks can be expected.
The Center for Strategic Studies under the President of the Republic of Azerbaijan (SAM), which organised this conference, is a research and policy recommending institution dedicated to innovative studies on national, regional and international issues. It provides an intellectual forum for international dialogue in order to bring different views together and thereby contributes to the formation of a common ground. The mission of SAM is to promote collaborative research, enhance the strategic debate and provide decision-makers with high-quality analysis and innovative proposals for policy action.