Von verlängerten Werkbänken und Headquarter-Ökonomien: Die Bedeutung funktionaler Spezialisierung in EU-Wertschöpfungsketten für die Lohnentwicklung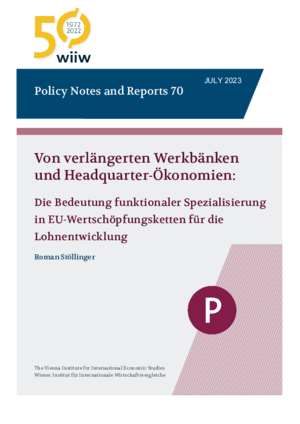 publication_icon
wiiw Policy Note/Policy Report No. 70, July 2023
17 pages including 3 Figures
Von verlängerten Werkbänken und Headquarter-Ökonomien:
Die Bedeutung funktionaler Spezialisierung in EU-Wertschöpfungsketten für die Lohnentwicklung
This publication is available in German language only.
For a brief English summary see further below.
Die Spezialisierung auf Funktionen innerhalb internationaler Wertschöpfungskette ist ein definierendes Merkmal der letzten Globalisierungswellen. In der EU hat sich dabei ein dichotomes funktionales Spezialisierungsmuster herauskristallisiert. Dabei stehen die mittel- und osteuropäischen Länder (EU MOEL), die als verlängerte Werkbänke fungieren, den Headquarter-Ökonomien in den westlichen EU-Ländern gegenüber. Dieser Policy Brief argumentiert, dass diese funktionalen Spezialisierungen auch weitreichende Auswirkungen auf den Arbeitsmarkt haben. Insbesondere hält eine Spezialisierung als verlängerte Werkbank tendenziell die Lohnentwicklung zurück. Dies birgt die Gefahr einer funktionalen Entwicklungsfalle für die EU-MOEL.
Of Factory and Headquarter Economies: Implications of Functional Specialisation in EU Value Chains for Wages
Functional specialisation within international value chains is a defining feature of the last waves of globalisation. In the EU, a dichotomous pattern has emerged in this respect. The Central and Eastern European countries (EU-CEE), which function as factory economies, stand in contrast to the headquarter economies in the Western EU countries. This policy brief argues that these functional specialisations have far-reaching implications for the labour market. In particular, specialisation as a factory tends to hold back wage growth. This poses the risk of a functional development trap for the EU-CEE.
Keywords: Funktionale Spezialisierung, globale Wertschöpfungsketten, Smile Curve, factory economy, greenfield FDI
JEL classification: F15, F21, F23, F66
Countries covered: European Union
Research Areas: International Trade, Competitiveness and FDI